Rossville going through trial and error with youth
The Rossville High girls basketball team is so young that the Bulldogs might have most of its starters from the 2007-2008 season back for two more years.
"I'm trying to be patient - but I'm not a patient guy," Rossville coach Jim Channel said jokingly. "I want them to be good now. But we've had a hard time scoring."
Rossville enters the tournament with a 2-6 record.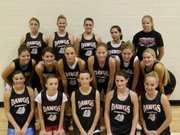 RHS faced Tonganoxie at 6 p.m. Tuesday in the first round of the tournament, but the game ran past The Mirror's press time.
"We might have trouble with Tonganoxie, the way they're playing," Channel said of the 7-2 Chieftains. "I understand they have a few athletic guards."
Rossville's most experienced basketball player actually is sophomore guard Dana Channel, the coach's daughter. Don't think Dana receives special treatment because of her genetics, though.
"I get on her case hard," Jim Channel, in his third year, said. "I wear her out. She handles the ball for us a lot. She defends the other team's best player. And she's just a sophomore."
Dana Channel averages 14 points per game. Her father praised her quickness and her ability to get to the rim and induce contact. At 5-9, Dana Channel is the Bulldogs' tallest player.
Taylor Fagan has made immediate impact for RHS this season as well. Fagan is averaging 10 points per game, and she's only a freshman.
Stacie Cook is the lone senior who starts for Rossville.
Jim Channel is 34-21 after two full seasons with the Bulldogs. He started with an impressive 22-4 mark his first year, then went 10-11 last season.
This season, Channel stressed the importance of his young team picking up experience from playing in the Tonganoxie Invitational.
"If we could get two wins, that would be tremendous," Channel said.