SLHS

hopes to heat up after slow start
It seems Silver Lake coach Tim Beikman always starts the Silver Lake High boys basketball season a little slower than he'd like.
Many of the Eagles' basketball players also are members of the football team in the fall. Typically, this wouldn't be that big of a deal, but Silver Lake goes so deep into the football playoffs every year that much of the team didn't have any rest in between seasons.
This is nothing new for Beikman, who enters his second year at Silver Lake with a 14-15 record. The Eagles have made it to the Kansas Class 3A football state championship game for the past six years. Of those six years, they've won one state championship.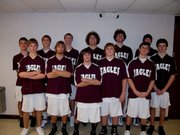 "I'll tell you one thing. The athleticism's there," Beikman said of his 3-5 Eagles basketball team. "Now I'm trying to convert them to a basketball mentality. The first few games were rough. They were still in attack mode from football. We're starting to get more into that finesse game and starting to play better."
Beikman went 11-10 in his first year last season and lost in the first round of sub-state. The Eagles placed seventh in last season's Tonganoxie Invitational.
"I was hoping to be .500 or better at this point," he said of this year. "I thought we had the Christmas break to catch up there, but we just haven't done that lately."
Silver Lake's problem certainly hasn't been on the defensive end. The Eagles give up only 45 points per game.
Silver Lake has struggled to put the ball in the basket, though. In a game earlier this season, Eudora scored only 38 on Silver Lake. The Cardinals still won the game.
"Usually when you hold a team to 38 points, you're going to win," Beikman said of the 38-35 defeat. "We're not going to blow the roof off a place by scoring points, but we play some pretty good 'D.'"
Silver Lake will turn to senior Marshall Wetta for the majority of its points. Wetta, a wide receiver in the fall, stands at 6-4 and averages near 12 points and eight rebounds per game.
"He's definitely a banger down inside," Beikman said of Wetta. "He can catch and turn and has some good moves for a big guy. They're going to double down a lot. If it's not there, he needs to kick it back out to guards."
Juniors Quin Bruce and Tyler Roberts are also primary contributors for the Eagles.