THS

girls win ugly in first round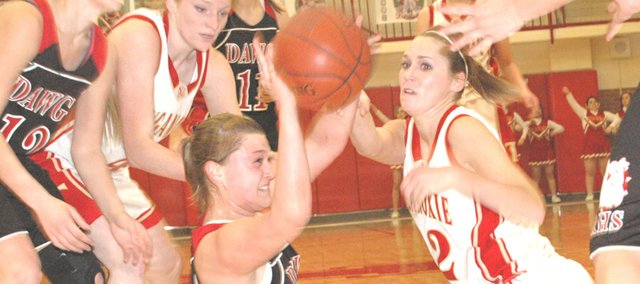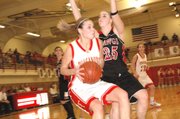 The Tonganoxie High girls' 50-43 victory Tuesday against Rossville was a little closer than what players and coaches expected heading into the Tonganoxie Invitational.
"I feel like we came out a little too light on everybody on the other team," senior Shannon Carlin said. "We should have come out a lot harder and stronger and that's not the way we play and put the ball in the goal. We need to come out harder and play Tongie ball."
Rossville, which had only won two games all year and starts mostly freshmen and sophomores, actually took a 10-6 lead after the first quarter. The game was tied at 19 heading into the half.
Not exactly what THS coach Randy Kraft had in mind.
"We had some good periods, but we didn't sustain it for 32 minutes," Kraft said. "We had a few defensive breakdowns and they exploited it. They shot the ball well against us."
Tonganoxie opened the second half with a 13-3 run, which gave the Chieftains a bit of a cushion. Still, Rossville wouldn't quit. The Bulldogs had the THS lead back to one by the end of the third quarter.
The Chieftains applied more defensive pressure in the second half, namely with a full-court press that helped cause 22 Rossville turnovers.
Carlin led THS with 15 points, six rebounds and five steals.
The game may have been too close for comfort for Kraft and THS, but the bottom line is Tonganoxie, which has won two Tonganoxie Invitational titles in four years, advanced to the semifinals.
"I told the girls in tournament play, it's all about winning and advancing to the next round," Kraft said. "Throughout a given season, you're going to have those nights when the other team is playing well and you're not. The important thing is to find a way to win."
Tonganoxie (9-2) will face Silver Lake in the semifinals at 6 p.m. on Friday.