THS

looking to upset top-ranked Atchison
The Tonganoxie High boys basketball team proved it can play with elite teams.
Just ask Perry-Lecompton, which had its undefeated season interrupted on Jan. 8 at the THS gymnasium.
Unfortunately for the Chieftains, they haven't been able to put together any back-to-back wins this season and have lacked consistency.
At 2-7, THS is the No. 8-ranked team in this season's Tonganoxie Invitational.
Tonganoxie faced Atchison at 7:30 p.m. Tuesday in the first round, but the game ran past The Mirror's press time.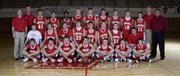 Atchison has won the tournament three straight years and four out of the past five years.
THS can always use the Perry game as a template and proof that the Chieftains can play against top-notch opponents.
"We can always fall back on that for the simple fact that in that game, we made the game of basketball simple," Tonganoxie coach David Walker said. "We didn't try to do anything fancy and we limited our turnovers."
Tonganoxie finished third in the Tonganoxie Invitational last year, with a victory against Leavenworth Immaculata. In Walker's seven years as THS coach, the highest he's placed at the tournament was second, in 2002.
This season, Tonganoxie is 0-2 against teams that are participating in the invitational. THS has lost to Lansing (60-37) and De Soto (53-44).
Senior forward Gabe Belobrajdic leads the Chieftains in scoring this season.
THS has switched its starting lineup around, but most recently has started Belobrajdic, senior guard Keith Wentz-Hall, junior guard Jace Waters, sophomore forward Keaton Shaffer and junior guard/forward Jamie Everett.
Look for seniors Tyson Letourneau and Logan Forbis, junior Austin Smith and freshman Jeremy Carlisle to contribute off the bench.
Walker said that despite Atchison being favored to win the tournament, all eight teams had a legitimate chance to take the crown.
"A tournament schedule is much different than a normal schedule," Walker said. "You're playing very quickly with very few practices to prepare for. So in that case, everybody's almost on a level playing field."