Tonganoxie wrestlers notch historic victory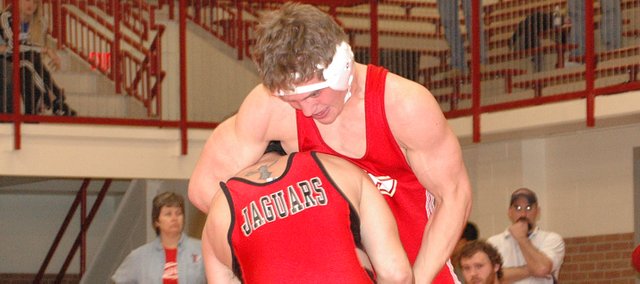 When Travis Adcox stepped on the mat in the finals of the Randy Starcher Invitational on Saturday, he wanted to start the match by noting his opponent's tendencies.
It didn't take long for the Tonganoxie High senior wrestler to become frustrated with his opponent, Blue Valley West's Sean French.
"When I went out there, I was going to play with him a little bit, but the first thing he did was pop me in my head," Adcox said. "That made me really mad. And I don't get mad that often in a match. You can do it. It's not illegal, but it's just common courtesy."
Adcox turned his frustration into motivation and pinned his opponent for the victory before a minute even ticked off the clock in the first round.
"I knew for me to be able to win this match in a quick way would be go to for the headlock," Adcox said. "So I went for the headlock and when he went for my leg, I hooked his arm and pulled him over."
That was fast.
After the victory, Adcox didn't talk trash to his opponent. He didn't boast. He simply bounced up, displayed the fiery energy that earned him the award for Most Outstanding Wrestler and jogged off the mat, amidst a raucous crowd at the THS gymnasium.
"I didn't say anything," Adcox said. "The win was enough."
Adcox (140-pound weight class) was a main contributor to Tonganoxie winning the invitational for the second consecutive year with 237 team points. Blue Valley West finished second with 215.
Tonganoxie may have won the invitational last year, too, but it frankly wasn't as impressive as this year's victory. Most of the teams didn't show up last year because of inclement weather.
After Saturday's victory, THS coaches said it was the first time Tonganoxie had ever won the invitational with a complete field on hand.
"It was sweet," Tonganoxie coach Jeremy Goebel said. "I thought the fans and the community came out and supported our wrestlers well. To pack the house and have that much enthusiasm, noise and celebration helped our wrestlers in that final round."
THS had five wrestlers make it to the final round of the invitational, which divided each weight class into a separate bracket.
Matt Brock (130-pound weight class), Adcox (140), Zach Kaighin (189) and Cameron Adcox (289) won their respective weight classes. Steve Davis made it to the finals and placed second in the 171-pound weight class.
Kaighin's finals match against Jacob Erman of Rock Port (Mo.) generated massive fan interest. The match continued into the third round before Kaighin finally pinned Erman 5 minutes, 31 seconds into the match. Upon sealing the victory, Kaighin stood up with his arms in the air, facing a wildly applauding Tonganoxie student section.
"I think anyone who saw that match is hooked to Tongie wrestling," Goebel said of Kaighin's match. "He was just a ball of fire. The kid feeds off emotion and he fed off that crowd."
Cameron Adcox finished the invitational with an 8-1 decision against Logan Hughes of Central Heights.
"I feel ecstatic," Adcox said. "It means everything. It's at home. The whole student body seemed to be here. I think we had a bigger crowd than we've ever had before at a Saturday tournament. It's just great to let people know that Tongie wrestling's here and we're here to stay."
Team results
1. Tonganoxie, 237
2. Blue Valley West, 215
3. Rock Port (Mo.), 151
4. Louisburg, 138
5. Olathe Northwest, 131
6. Bishop Ward, 88
7. Topeka West, 76.5
8. Atchison, 75
9. Oskaloosa, 40
10. Central Heights, 38
11. Pittsburg (unattached), 27
12. Jayhawk Linn, 23
13. St. James Academy (Lenexa), 26