Tournament success common for
SLHS
The Silver Lake High girls basketball team remembers what it felt like to lose by one point at the buzzer to Eudora earlier this season.
Not exactly the best feeling - especially on your home floor.
Both teams are part of the eight-team field at this season's Tonganoxie Invitational.
"I wouldn't mind playing them again," Silver Lake coach Loren Ziegler said. "I think our players would want to play them again, too."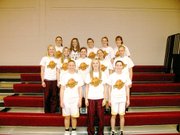 Silver Lake and Eudora are on different sides of the bracket and wouldn't face each other unless they both made it to the finals or the consolation finals.
The possibility of a finals meeting might seem unlikely with Tonganoxie and Lansing on opposites sides of the bracket. Ziegler made his goal clear, though.
"Obviously, we want to win it all," he said. "It's a neat tournament. Tongie puts on a good tournament. Our players look forward to it and it's good competition."
This is the third year Silver Lake has competed in the Tonganoxie Invitational. The Eagles have been impressive in all three showings, finishing second, first and third the past three seasons.
Silver Lake is 5-3 entering the tournament. The Eagles are loaded and have all their key contributors back from last season's 11-11 team.
The Eagles possess a triple-threat combination of seniors Sara Wetzel, Jordan Lockwood and Whitney Gillman.
Wetzel is Silver Lake's leading scorer at 10 points per game.
"She's our best three-point shooter," Ziegler added. "She's really athletic, quick and jumps well."
Lockwood averages eight points and six boards per game, while Gillman averages six points and four assists per game.
The Eagles' other two starters are sophomores Amanda Lewis and Bailey Krogman.
Ziegler is one of the more experienced coaches around. He's entering his 26th year at Silver Lake. He's also surpassed the 500-win plateau, compiling a 512-163 record in his time with the Eagles.