Web exclusive: Atchison girls trying to deal with injuries
The Atchison High girls basketball team has caught some bad breaks this season.
Its best ball-handler, junior Cheri Beadles, dislocated her shoulder Jan. 8 and could miss time, pending the result of an MRI.
If Beadles misses any time, expect senior Samantha Norris and junior Tiffani Gassman to have increased roles handling the ball.
Furthermore, senior forward Paige Peltzer missed two games earlier in the season because of a lacerated finger. Peltzer will play in this week's Tonganoxie Invitational.
"Those first couple of games without them, we were lost," Atchison coach Kody Kasselman said. "We didn't have an identity. We didn't have a go-to person on the outside or the inside. We were just out of sync."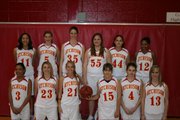 Atchison enters the Tonganoxie Invitational with a 3-5 record. AHS has defeated Class 5A Topeka West, Maranatha Academy of Shawnee and Turner.
AHS lost four seniors from last year's team that went 8-13 and lost in the first round of sub-state to Santa Fe Trail.
This season, Peltzer and junior Lillian Cooper give Atchison a strong presence in the paint.
Peltzer is a walking double-double, averaging 16 points and 11 rebounds per game.
Cooper is more of a defensive stopper. She averages eight points, 11 rebounds and three blocks per game.
"She plays pretty smart," Kasselman said of the 6-foot-2 Cooper. "Last year, she was slow with her feet. She's bulked up a little bit. Her footwork is a lot better."
Atchison hasn't fared particularly well in the Tonganoxie Invitational. Last year, AHS finished sixth. For three years before that, Atchison finished in eighth.
"We have to be able to handle the pressure," Kasselman said. "I think the competition, as far as the field is concerned, is the best it's been in the four years that I've been associated with it."