Chieftains advance to Saturday's title game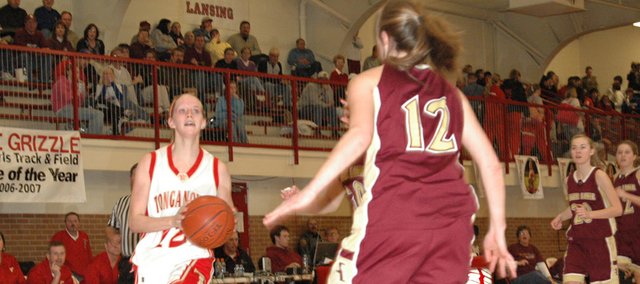 Photo Gallery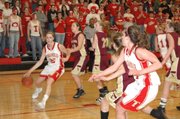 Tonganoxie girls vs. Silver Lake
Tonganoxie Invitational semifinals
After the Tonganoxie High girls basketball team defeated Silver Lake, 41-36, on Friday, the Chieftains proved they openly welcome pressure-packed situations.
Forty-four seconds remained in the Tonganoxie Invitational semifinals when THS senior Christy Weller stepped to the foul line. Tonganoxie led by two. It was so quiet and tense that every dribble Weller took echoed throughout the THS gymnasium.
THS fans were nervous. They had their reasons.
Before Weller stepped to the line, the Chieftains were 8-of-27 from the free throw line. No need to scramble for a calculator. That's a rather unimpressive 29.6 percent.
Making matters even more interesting, Weller was 0-for-6 from the foul line before her fourth-quarter trip.
The senior calmly sank the first free throw, noticeably relieved. Weller cracked a smile. Senior Tracie Hileman was so happy she hugged Weller after she pushed the THS lead to three. Weller also made the second free throw to make it a two-possession game.
"That's a hard obstacle to overcome when you're 0-for-6," Tonganoxie coach Randy Kraft said. "It's late in the game with the game on the line and you have to step up and make it. I hope that carries over with her mentally with that confidence."
Tonganoxie sealed the victory with senior Liz Baska making three of her last four free throws. Baska made 6-of-8 free throws overall.
"Liz Baska. She is a free throw queen," said senior forward Shannon Carlin, who scored a team-high 14 points. "I give credit to her. She did an amazing job out there. She saved my butt because I know I didn't do well on free throws tonight."
Carlin was 3-of-7 from the line Friday.
It's not like THS doesn't work on its free throws. Kraft said Weller was up in the 80-90 percent range from the line at Thursday's practice.
"Kraft can't stress free throws enough at practice," Carlin said. "We shoot at least 40 free throws per practice. We combine our free throws. If we don't get a certain percentage, we have to run for that."
Baska added eight points for Tonganoxie, while Hileman had seven points and eight rebounds.
With the victory, Tonganoxie will face Eudora at 5:30 p.m. Saturday in the Tonganoxie Invitational championship.
The Chieftains faced the Cardinals in the finals of the Paola Girls Basketball Invitational on Dec. 7. THS won, 47-43.
The Tonganoxie Invitational is in its 49th year, but 2008 is the fifth year that a girls tournament has taken place. THS has now made the finals in all five years.
Tonganoxie has won the tournament twice, in 2005 and 2007.
Scoring by quarter
Tonganoxie 19 7 6 9 - 41
Silver Lake 10 12 3 11 - 36