THS

girls take gold at home invitational
Senior forward Carlin named
MVP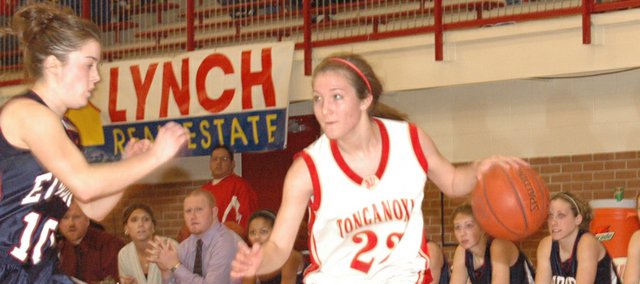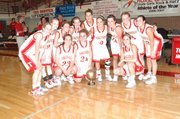 Photo Gallery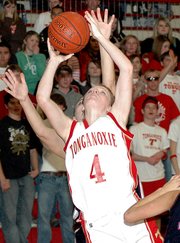 THS girls win tournament
The Tonganoxie High girls basketball team won its third Tonganoxie Invitational championship in five years Saturday night when it defeated Eudora, 51-37.
Senior forward Shannon Carlin led the Chieftains with 14 points and nine rebounds. After the championship presentation, Carlin was named the Tonganoxie Invitational MVP.
"I'm kind of speechless," Carlin said. "A lot of people played great out there from other teams as well. There were too many girls to pick from. But I have worked hard and I think I deserved it."
Carlin averaged 14.3 points and 7.3 rebounds per game at the tournament. It was the first MVP award of her career.
"She's brought it every game of this tournament and she's deserving of the MVP," Tonganoxie coach Randy Kraft said. "She's been very consistent. We just want her to keep getting better as the year goes on."
Tonganoxie (11-2) played lockdown defense the entire game. Eudora scored 15 points in the first quarter, including a three-point buzzer beater by Kendal Abel. After that quarter, the Chieftains held the Cardinals to 7, 8 and 7 points in the second, third and fourth quarters, respectively.
THS senior guard Christy Weller was a primary reason for the Chieftains frustrating the Cardinals' offensive flow. Weller, who was named to the all-tournament team, had four steals.
"She was a ball of fire tonight," Carlin said of Weller. "She did amazing. I knew she was feeling it, too. She's been playing great all year, especially defensively. We put her on their team's fastest girl. Christy Weller can handle anything."
Added Kraft: "Eudora has a really great point guard and I think Christy frustrated her a lot tonight. She did an outstanding job defending her."
Weller held EHS junior point guard Bailey Scott to 1-for-8 (0-for-4 three pointers) shooting from the field.
Eudora is still an impressive 9-2 on the year. Both losses have come at the hands of the Chieftains.
"I think it's the mentality of the game," Carlin said about the THS success against Eudora. "We come out thinking, 'Hey, we've beat Eudora before.' But that doesn't mean we can beat them this time. It's a whole new ballgame. New place, new style, new everything."
Seniors Liz Baska and Tracie Hileman joined Weller on the all-tournament team.
See Wednesday's edition of The Mirror for the full story.
Scoring by quarter:
Tonganoxie 16 12 13 10 - 51
Eudora 15 7 8 7 - 37