Atchison guard puts on show vs. Tonganoxie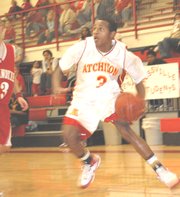 The Tonganoxie High boys basketball team had its chances to be the Cinderella of the Tonganoxie Invitational on Jan. 15.
In the end, however, Atchison's Anthony Downing proved why the Redmen's No. 1 seed in the tournament was no fluke.
Downing scored 33 points and was the main reason Atchison held on for the 67-61 first-round victory.
The AHS senior guard opened the game by displaying the soft shooting touch that has several mid-major Division I universities giving him a serious look. Downing hit his first four three-point shots and scored 16 points in the first quarter.
When you're on, you're on.
"The basket seemed pretty big," Downing said. "That's the best I've shot all year."
After Downing's first-quarter highlight show, Tonganoxie coach David Walker changed his defensive strategy.
Walker set up his players in a diamond-and-one formation on defense, meaning four THS defenders played zone. One THS defender - namely Jamie Everett or Travis Freeman - would follow Downing around the length of the floor. The idea is to allow as little separation as possible and prevent Downing from getting the ball.
"We said from the beginning that he could shoot the ball very well," Walker said of Downing. "Sometimes, as a player, you have to see that to actually believe it. So once they understood that when we mean 'Get on Anthony Downing,' it doesn't mean two feet away. It means you have to be on him and less than a foot away because he's a very talented player."
Everett and Freeman did an effective job of preventing Downing from shooting long-distance shots after the first quarter. In fact, he didn't convert any threes the rest of the game.
But he found other ways to score.
Since THS respected Downing's shot so much, he frequently utilized his raw speed to slash toward the basket. He went to the line 15 times and converted 13 free throws.
"When a few of my shots weren't falling, I decided to drive to the basket and look for my teammates and also look for the short jump shot," Downing said.
Downing had six steals, six rebounds and four assists to go along with his 33 points.
Downing said he was impressed with Everett and Freeman's defense. At one point, an Atchison fan jokingly shouted, 'Don't get too close,' to whichever THS defender guarded Downing. But that was precisely the THS defender's job.
"It was hard trying to fight through all the people," Downing said. "They kept on pushing me and I kept pushing back. It was pretty physical. They say basketball is not a physical game, but it was physical."
Atchison lost in the tournament championship, 80-56, against Lansing. The Redmen had won the Tonganoxie Invitational four of the past five years. They were ranked No. 6 in the Kansas Basketball Coaches Association Class 4A poll.
Downing was named the tournament's Most Valuable Player.