Chamber honors tow 'senior-senior citizens'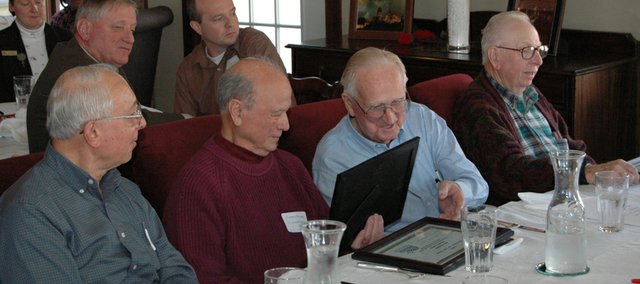 Tonganoxie Chamber of Commerce handed out several awards at its annual meeting last week, including Citizen of the Year recognition.
Bo Himpel and George Cooper were recognized as this year's recipients. Himpel has volunteered many hours of service in beautifying VFW Park and works at Himpel Lumber. Cooper has volunteered much time to the Tonganoxie Community Historic Site campus. A board member for the historical society, Cooper has brought history to life at the campus for visiting schoolchildren from area schools.
J.W. Evans presented the awards to Cooper and Himpel at the meeting, jokingly referring to them as "senior-senior citizens."
However, Evans' tone turned serious, as he became emotional in presenting them their awards.
"They're trustworthy," Evans said. "You can shake hands with them and know that it's going to be good."
Other awards went to: John Lenahan and Don Pelzl, Community Service Awards; and Jandi Smith and John Fiore with Sunflower Broadband, Members of the Year.
Lana Howe was recognized as outgoing chamber board member. At the conclusion of the meeting, Mike Reischman was voted in to replace Howe on the board.
The meeting was at the Amanna Elan in Tonganoxie.