Chieftains make most of seventh place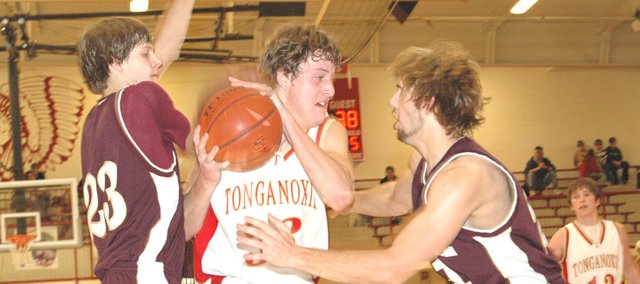 Photo Gallery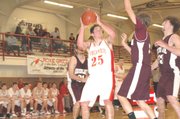 THS boys place seventh
Related document
The Tonganoxie High boys basketball team didn't have much success in the Tonganoxie Invitational, finishing seventh of eight teams.
However, the Chieftains showed promise in their 62-51 victory against the Jeff West Tigers in the seventh-place game on Saturday.
Sure, Tonganoxie didn't set a goal of placing seventh in its own tournament. But there's also half of the season left to play.
"We could have thought of it as, 'Who cares, it's a seventh-place game,'" senior Gabe Belobrajdic said. "But we got our pride back."
The Chieftains (3-9) did an admirable job defensively against one of the tournament's top players, Tom Shirley of Jeff West. At 6-feet-7-inches tall, Shirley poses match-up problems for mostly every team he faces. Shirley doesn't solely operate in the paint. He can also step out for perimeter shots.
Shirley scored 21 points on Saturday. Tonganoxie rotated defenders on him. Senior Tyson Letourneau started the game guarding him. Belobrajdic occasionally guarded him. Junior Austin Smith filled in and was effective on the defensive and offensive side of the ball.
Tonganoxie clearly wasn't afraid of Shirley.
"He would occasionally get around me with his long arms, but you put your elbow into him and he'd just back down," Smith said. "He really didn't like that."
Added Belobrajdic: "He's not very physical. He can't do as much with somebody on him as he can without anybody on him. He's not really the power kind of player. I think we did a really good job of stopping him."
Jeremy Carlisle, who doesn't even start, frustrated Jeff West guards by scrapping for two steals off inbounds passes. On the steals, Carlisle was literally a one-man full-court press. He made Jeff West guards work for every offensive dribble they took for the length of the floor.
"Guys are starting to understand that it pays off when you play as hard as they did today," THS coach David Walker said. "This game was huge in the sense that I thought we played two well-fought games prior to this one. To come back and play as hard we did was huge for us. Sometimes, the tendency would be to let up a little bit. I couldn't be prouder of a bunch of guys than I am right now."
An instance that said a lot about how the game went: With about 20 seconds left in the first quarter, THS scored a layup. Carlisle pressured the ensuing inbounds pass, which sailed over the head of Myles Wulfekoetter of Jeff West. Carlisle picked the ball up and dished to Gabe Belobrajdic, who sprinted from half court and converted the layup.
THS scored four points in roughly five seconds at the end of the quarter. Tonganoxie protected a 19-9 lead after the first quarter.
Tonganoxie led, 33-19, at halftime and 46-35 after the third quarter. Shirley kept Jeff West in the game, but Tonganoxie never let the lead get lower than 10 points in the final quarter.
"It's big for us because we always tell our team with each success comes different challenges," Walker said. "One of the challenges for them now is to maintain this enthusiasm and this effort level. The coaching staff, the fans and themselves have seen it. Now we know what to expect."
Consolation semifinals: Silver Lake 49, Tonganoxie 42
It seemed like a short amount of time: two minutes.
The Tonganoxie High boys basketball team wishes it had those couple of minutes back after Thursday's 49-42 loss to Silver Lake.
"It's a 32-minute game and I would say that 30 of the 32 minutes, we played really well," Walker said. "There was a short stretch in the third quarter where we let them get three rebounds and put-backs, and that comes down to the ballgame. It's a hard lesson to learn sometimes. It's those two minutes that can cost you the game."
Silver Lake took its biggest lead - nine - after the 6-0 run.
The Eagles kept their lead in the fourth quarter by converting free throws and not committing turnovers. SLHS guard Quin Bruce stepped up Thursday with a team-high 14 points. Silver Lake's typical leading scorer, Marshall Wetta, was held in check with seven points. He fouled out of the game.
Sophomore forward Keaton Schaffer led Tonganoxie with 17 points and six rebounds. Belobrajdic added 10.
Schaffer showed poise Thursday, particularly for a sophomore. During one instance in the fourth quarter, Schaffer drove the lane for a layup, but Silver Lake's Dustin Campbell, who trailed the play, glided through the air and emphatically rejected the sophomore's shot.
Campbell let Schaffer know about it. He announced his presence by briefly yelling, then told Schaffer, "How do you like that?" The referee called a technical foul on Campbell immediately after the play.
Schaffer didn't say anything. He went to the foul line, drained both free throws and cut the Silver Lake lead to 36-32 with 6:29 left in the game.
"We've instructed them if they get talked back to or somebody wants to trash talk, we just move on and play our game," Walker said. "A kid can easily get caught up in those things. (Schaffer) understands that there are going to be players that are going to try to intimidate him a little bit, but he's used to that. He made an adult decision by not saying anything."