Commerce secretary, in visit to city, touts state's business climate
David Kerr joked at the Jan. 15 Tonganoxie Chamber of Commerce annual meeting that he finished No. 3 in his class.
However, he also noted that he was in the bottom third of his class.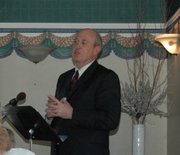 Kerr, secretary of the Kansas Department of Commerce, said he grew up in Ness City in western Kansas and was educated early on in a one-room school house, in a class of three. He later graduated from Savior of the World High School in Bonner Springs.
The focus of Kerr's speech, though, quickly shifted to the climate of commerce in Kansas.
"I love coming to these types of events because you really learn what Kansas is all about, in terms of the value in terms of the culture in terms of everything the state has to offer," Kerr said.
He said three primary industries traditionally have driven Kansas: agriculture, energy and manufacturing, with heavy emphasis on aerospace and aviation.
Kansas produces more wheat, grain sorghum and beef than any other state, and is seventh in the nation for agriculture exports.
Along with being ranked seventh in biofuel capacity, the state has the third largest potential for wind production in the United States, and is in the top 10 in natural gas and crude oil production.
Wichita is still the aviation capital of the world, Kerr said, as more than 50 percent of every airplane built in the world has come from Wichita.
Bioscience has come to the forefront in recent years with the push for a national bioscience facility. Leavenworth and Manhattan both were in the running to land the $450 million facility. The list has been narrowed to five potential sites across the nation, with Manhattan still in the running.
For all the positives Kansas has in its favor, Kerr stressed that Kansas must be promoted better to the rest of the country.
As an example, he mentioned a conversation he had with a businessperson from Texas.
"They don't have a negative image of Kansas," Kerr said. "They don't have any image of Kansas at all."
Locally, he urged Tonganoxie to be involved in the Kansas Main Street program, a state program that targets preservation and revitalization of historic downtown districts.
A Main Street official will speak at Monday's City Council meeting, which starts at 7 p.m.
Kerr infused his speech with an occasional speck of humor. He said his claim to fame was his roommate at Avila College was Wayne Simien Sr.
His story was that Simien was no better a basketball player than he, but that Simien and his wife had better genes than Kerr and his wife.
Wayne Simien Jr., attended Leavenworth High School and went to play basketball at Kansas University and professionally with the Miami Heat.
In closing, Kerr jokingly told the group he "probably told you more than I know."