Conservation a priority for area farmers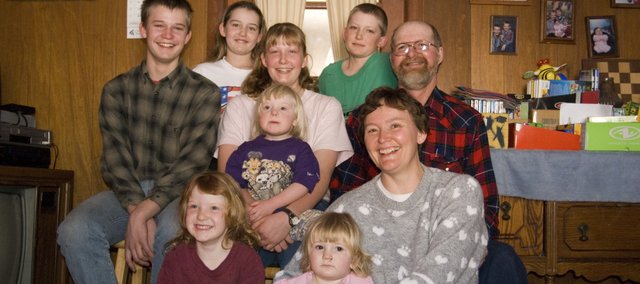 If raising seven kids wasn't hard work enough, try adding three cats, 11 dogs and 104 cows in calving season.
That's the life of Rodney and Amy Parsons, who own about 460 acres of land just outside of Jarbalo and who lease about another 1,000 acres.
"Somehow we manage to keep busy," Rodney joked.
For all of their hard work at their farm, and specifically for their efforts in soil conservation, the Parsonses are being honored with a Leavenworth County 2007 Kansas Bankers Association Conservation Award for soil conservation.
This is the first time the Parsonses have been given the award.
Rodney said he would be happy to accept the award, but he wasn't sure why he was getting the award for farming the way he usually has.
"As far as conservation, any farmer or rancher that is connected to the land, that is their number one priority," Rodney said. "That is their livelihood."
The lifelong farmer had participated in conservation programs like creating terraces, creating filter strips to reduce the amount of runoff and participating in Conservation Reserve Programs.
But the spring development project was by far his favorite.
"This spring project has been the one that was most intriguing for us," Rodney said about the 5 gallon per minute spring he dug up. "We've been able to take a resource that has been there and develop it and turn it into a useful water source for livestock."
The spring pumps into a 1,500-gallon tank and another 150-gallon tank below the main tank to be used for his farm.
At first Rodney wasn't sure about spending the money for the spring, "but it turned out to be a very good thing," he said.
For now, the top issue for the Parsonses is getting through the winter calving season.
Amy said there have been 81 calves in the last 40 days.
The kids have the morning check and Rodney gets the midnight calf check.
Of the calves birthed, six of them had to have special attention inside the house. Amy referred to her kitchen as the ICN, or the intensive calf nursery.
The calves would stay there until they became friskier. Amy said you could tell when they were moving around because the calves would start running into the kitchen cabinets.
"You know they are doing good, but you can't sleep," she said.