Dispute with contractor may force homeowner to sell
Dispute with contractor may force homeowner to sell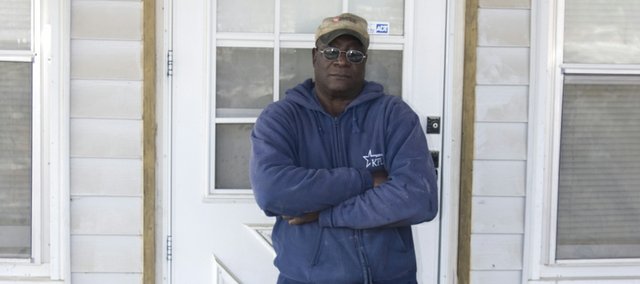 It's been almost six months since Robert Hudson and his family have been able to live in his rural Tonganoxie home of 14 years.
Now after a recent inspection, Hudson may never be able to move back.
"I was just thinking about what I can do but I really don't know," Hudson said recently. "I can't get a loan to try to go ahead and fix the home. I just made a bad investment. I just have to cut my losses and sell the old place. I have no other choice."
In July, Hudson contracted with Heritage Property Development in Lenexa to raise his home and install a 9-foot tall foundation underneath the house to create a basement. The project, which was contracted to be finished Oct. 1, has been fraught with problems for Hudson since the beginning.
Jeral Cooper of Four J Enterprises Inc. inspected the house at the end of December and gave a report to Hudson earlier this month.
The report stated there were calculation errors that resulted in part of the foundation wall blowing out and part of the foundation being shorter than it needed to be. It concluded that John Earnshaw, owner of Heritage Property Development, made some choices that were not the most practical or structurally preferable. Cooper wrote in his summary that the project was "predestined to have many adverse problems and little chance to realistically achieve the desired objective, whatever that may have been or may be now."
"I would suggest you, and your family, give much consideration to aborting this project and consider investing your money, time and energy in the building of a new home on this site that would be new and modern in every conceivable way," Cooper wrote. "I believe the present project is racked with inherent problems that cannot successfully be rectified nor support the necessary costs."
For Hudson, a retired Kansas Gas employee and now bus driver for the Tonganoxie School District, to complete Cooper's recommendations, he would need money to demolish the house and start all over. But Hudson is also running into roadblocks there, too.
Robin Jones, career Agent for Farm Bureau Financial Services, has been trying to help Hudson file a claim with Heritage's insurance broker, Accu-rate Insurance Inc., of Shawnee.
According to the certificate of liability insurance given to Hudson when the contract was signed, Heritage Property Development had a $1 million in coverage for property damage. To make a claim, Hudson would have to show that there was negligence on Heritage's part, which Jones said was pretty obvious.
Unless foundation work was specifically excluded, Jones believes Earnshaw's general liability insurance should cover the damage to Hudson's home. Jones has not seen any documentation that excluded the foundation work, but said insurers will not often reveal specific details of their client's policies unless they are subpoenaed.
Fred Bermudez, insurance agent for Accu-rate said Heritage was still one of its clients but had no further comment.
But that might not be Hudson's biggest problem.
The policy had expired three days before work began on Hudson home on July 21, and wasn't renewed until Aug. 14. This lapse in coverage could mean the work won't be covered.
"The occurrence policy has to be in the time the damage was done," Jones said. "There may be a problem if the work was done while Earnshaw wasn't covered."
Hudson's only hope may be from legal action.
In November, Hudson filed a claim with the consumer protection division of the Kansas Attorney General's Office against Earnshaw.
Since Nov. 29, the Attorney General's Office has been waiting for a written reply from Earnshaw in response to the complaint.
Ashley Anstaett, spokesperson for the Kansas Attorney General's Office, said the office has made contact with Earnshaw. The contractor filed for, and was given a 15-day extension to make his response.
"If a company refuses to communicate or work with us, then what we can do is subpoena the information or we can subpoena them to show up for a sworn statement," Anstaett said. "After that, if they refuse, then we can file an injunction so then they can't do their business, and then the option would be to take evidence from the consumer and file a suit."
But a lawsuit filed by the Attorney General's Office would not benefit Hudson. Anstaett said he would need a private attorney to get any compensation.
Hudson said he has looked into this option, but the lawyers he's spoken to have asked for more than he can afford.
"I'm at a standstill," Hudson said. "Earnshaw wanted to give me $30,000 back, but $30,000 is not going to replace my house."
Earnshaw denies ever offering him back his money.
Hudson said hiring Earnshaw was the "biggest mistake I've ever made."
Earnshaw said he has hired a lawyer in light of the issue. Earnshaw said he was upset that Hudson had contacted the Attorney General's Office and the media and he still feels that he could finish the job he was contracted to do if Hudson would only let him.
"I don't think it's really right for him to do this and not give met the opportunity to fix it," Earnshaw said. "That's the problem; he just sits there and plays the victim. Poor Robert, calling the newspaper, calling the attorney general. It's a bunch of crap."
Earnshaw said he has many references that are happy with the work he's done for them and he hasn't had anybody file a claim against his insurance in 15 years.