Leaving no doubts
THS

defeats Eudora, wins 3rd title in 5 years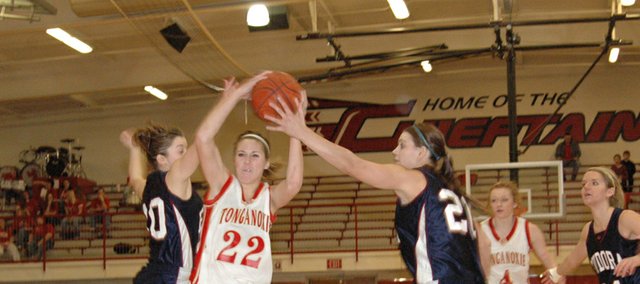 Related document
Photo Gallery
THS girls win home tourney
In each of its games leading to the Tonganoxie Invitational championship, the THS girls basketball team wasn't pleased with its overall performance.
Tonganoxie simply overlooked its first-round opponent, Rossville, on Jan. 15, but still escaped victorious. THS then slipped past Silver Lake on Friday, but shot only 13-of-33 (39 percent) from the free throw line.
The Chieftains faced a familiar foe, the Eudora Cardinals, in Saturday's championship game. Following Tonganoxie's 51-37 victory, nothing negative stood out. It was quite the contrary.
Tonganoxie played such intense defense Saturday that Eudora didn't score more than eight points in the second, third or fourth quarter.
Much of the defensive prowess came from senior guard Christy Weller, who had four steals in the championship game.
Weller held EHS junior point guard Bailey Scott to 1-for-8 (0-for-4 three pointers) shooting from the field. She constantly disrupted Eudora's offensive flow with full-court pressure.
"I actually never think to steal it, even though it looks like it," Weller said. "I really just try to make them have a turnover. Fluster them so much that they mess up."
When Tonganoxie capitalized on EHS turnovers, senior forward Shannon Carlin was the primary beneficiary. Carlin scored a team-high 14 points and grabbed nine rebounds.
In three tournament games, Carlin averaged 14.3 points and 7.3 rebounds per game. She also had nine steals in three games, including five against Rossville.
Her consistent performance earned her recognition as the Tonganoxie Invitational MVP. It was the first MVP award of Carlin's career.
"I'm kind of speechless," Carlin said. "A lot of people played great out there from other teams as well. There were too many girls to pick from. But I have worked hard and I think I deserved it."
The Chieftains (11-2) claimed their second straight Tonganoxie Invitational championship and their third in the five years the girls tournament has existed.
"We've been really fortunate the last several years to have some good kids," Tonganoxie coach Randy Kraft said. "When they graduate, the young kids come up and replace them. We've had a pretty nice run."
Weller, Carlin, and seniors Liz Baska and Tracie Hileman were named to the all-tournament team.
Eudora is still an impressive 9-2 on the year. Both losses have come at the hands of the Chieftains. THS defeated Eudora in the Paola Girls Basketball Invitational on Dec. 7.
"I think it's the mentality of the game," Carlin said about THS' success against Eudora. "We come out thinking, 'Hey, we've beat Eudora before.' But that doesn't mean we can beat them this time. It's a whole new ballgame. New place, new style, new everything."
Saturday marked the second tournament THS has won this year. Tonganoxie also won the Paola Girls Basketball Invitational.
Semifinals: Tonganoxie 41, Silver Lake 36
After THS defeated Silver Lake on Friday, the Chieftains proved they openly welcome pressure-packed situations.
Forty-four seconds remained in the Tonganoxie Invitational semifinals when Weller stepped to the foul line. Tonganoxie led by two. It was so quiet and tense that every dribble Weller took echoed throughout the THS gymnasium.
THS fans were nervous. They had their reasons.
Before Weller stepped to the line, the Chieftains were 8-of-27 from the free throw line. No need to scramble for a calculator. That's a rather unimpressive 29.6 percent.
Making matters even more interesting, Weller was 0-for-6 from the foul line before her fourth-quarter trip.
The senior calmly sank the first free throw, noticeably relieved. Weller cracked a smile. Hileman was so happy she hugged Weller after she pushed the THS lead to three. Weller also made the second free throw to make it a two-possession game.
"That's a hard obstacle to overcome when you're 0-for-6," Kraft said. "It's late in the game with the game on the line and you have to step up and make it. I hope that carries over with her mentally with that confidence."
Tonganoxie sealed the victory with Baska making three of her last four free throws. Baska made 6-of-8 free throws overall.
"Liz Baska. She is a free throw queen," said Carlin, who scored a team-high 14 points. "I give credit to her. She did an amazing job out there. She saved my butt because I know I didn't do well on free throws tonight."
Carlin was 3-of-7 from the line Friday.
It's not like THS doesn't work on its free throws. Kraft said Weller was up in the 80-90 percent range from the line at Thursday's practice.
"Kraft can't stress free throws enough at practice," Carlin said. "We shoot at least 40 free throws per practice. We combine our free throws. If we don't get a certain percentage, we have to run for that."
Baska added eight points for Tonganoxie, while Hileman had seven points and eight rebounds.
Quarterfinals: Tonganoxie 50, Rossville 43
The seven-point THS victory against Rossville on Jan. 15 was a little closer than what players and coaches expected.
"I feel like we came out a little too light on everybody on the other team," Carlin said. "We should have come out a lot harder and stronger and that's not the way we play and put the ball in the goal. We need to come out harder and play Tongie ball."
Rossville, which had only won two games all year and starts mostly freshmen and sophomores, actually took a 10-6 lead after the first quarter. The game was tied at 19 heading into the half.
Not exactly what Kraft had in mind.
"We had some good periods, but we didn't sustain it for 32 minutes," Kraft said. "We had a few defensive breakdowns and they exploited it. They shot the ball well against us."
Tonganoxie opened the second half with a 13-3 run, which gave the Chieftains a bit of a cushion. Still, Rossville wouldn't quit. The Bulldogs had the THS lead back to one by the end of the third quarter.
The Chieftains applied more defensive pressure in the second half, namely with a full-court press that helped cause 22 Rossville turnovers.
Carlin led THS with 15 points, six rebounds and five steals.
"I told the girls in tournament play, it's all about winning and advancing to the next round," Kraft said. "Throughout a given season, you're going to have those nights when the other team is playing well and you're not. The important thing is to find a way to win."