Students still angling for state fish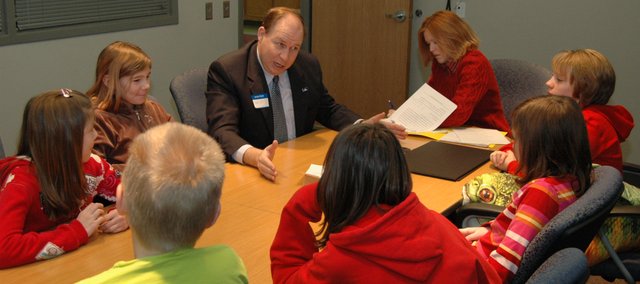 The bluegill suddenly is not in the flailing stage.
Since 2006, Tonganoxie Elementary School third-grade students have been pushing for a bill in Topeka that would designate the bluegill as the state's official fish.
On Thursday, the House Agricultural and Natural Resources Committee will conduct a hearing on House Bill 2158, which is the legislation TES third-grade teacher Karen Stockman has proposed with her students.
Rep. Kenny Wilk, R-Lansing, recently broke the news to Stockman that a committee would be reviewing the bill.
In fact, Stockman and a few of her students will be speaking to lawmakers Thursday during the hearing. At the hearing, students will talk about why they think the Legislature should recognize the bluegill as the official state fish and answer questions from lawmakers on the panel.
"It's been a ton of work," Stockman said. "I'm feeling very excited, almost tingly.
"Mr. Wilk spoke to me. It was just a thrill."
And it occurred not a moment too soon.
The bill was in its second session before the Legislature. If a bill is not addressed after two sessions, the bill dies.
Work on the proposed legislation actually started about two years ago, when current fifth-graders at Tonganoxie Middle School were third-graders at TES with Stockman.
Effort's history
Students were presenting their work on all things Kansas for Kansas Day, which is Jan. 29 each year.
A second-grader at the time asked students which fish was designated as the state fish. Stockman's students discovered that Kansas did not have an official state fish.
Stockman's students went to work researching which type of fish would be most suitable to potentially become the official state fish.
Students settled on the bluegill and went to work promoting their cause. In April 2006, students sent out informational packets to several school districts throughout the state urging their students to join the cause.
Stockman said only about 20 schools replied back to her class. Although she had hoped for more, she said it was a busy time of year with state testing and the end of the school year approaching.
The students requested that their proposed legislation be included on the docket for that year's session, but by the time Stockman had submitted the information, the docket was full.
She said the full docket actually was beneficial to her class' cause because there wasn't much time left in the session, so it likely would have been a wasted effort.
Stockman helped her class' cause a few weeks ago when she submitted a letter to the editor to area newspapers explaining the class project and the need for citizens to send letters to their legislators urging them to make the bill a law.
The request seemed to work, as local representatives received several letters favoring the measure.
And, the hearing comes at an ideal time - less than a week before Kansas Day.
"The timing is just fantastic," Stockman said. "The kids are just so excited."
Extended lessons
Stockman also has been pleased with how many disciplines she is able to teach through the ongoing project. For instance, students not only have learned about Kansas history and legislation, but also geography when they sent out packets to districts across the state. The class used grid maps to track where the schools are located across the state. It's also an election year to boot.
"We've turned it into a really in-depth and integrated unit," Stockman said.
Meet the lawmakers
About five students will accompany Stockman on Thursday to Topeka to testify. The students will do all of the speaking, Stockman noted. Thursday's hearing allows for only a few students to speak, so Stockman's entire class will not make the trip.
One of those students is Lauren Harrell, who was in Stockman's class two years ago.
Now a fifth-grader at Tonganoxie Middle School, Lauren will embark on the Capitol with a few of her classmates.
"I'm really excited because you know we worked really hard for this and we might make state history and that's a really great feeling because not many kids get to do that," she said.
Furthermore, she thinks it's about time Kansas has an official fish.
"I think that Kansas should have a state fish and a lot of other states do and it would be a really cool thing," Lauren said. "Because a lot of people in Kansas like to fish."
Although Stockman's full class won't be in Topeka on Thursday, she has received approval from Superintendent Richard Erickson to take the entire class to the Statehouse if the bill reaches the House floor to be debated and acted upon.
"They know that they have the opportunity and the right to be involved," Stockman said. "I always encourage my students to always be involved. And I think they feel so empowered by this."
The third-grade teacher said she thought it's an experience her students will take with them forever, including "how long it takes" to get a bill through to lawmakers, Stockman said with a laugh.
The mission statement of Tonganoxie USD 464 is "to prepare each student to be a fully productive and caring participant in our changing world."
Stockman takes the statement a step further.
"And I feel that includes being active and participating democratic citizens," she said.
The hearing will be held at 1:30 p.m. in room 431-N at the Statehouse.