Tree stand pays dividends for Basehor farmer
Tree stand pays dividends for Basehor farmer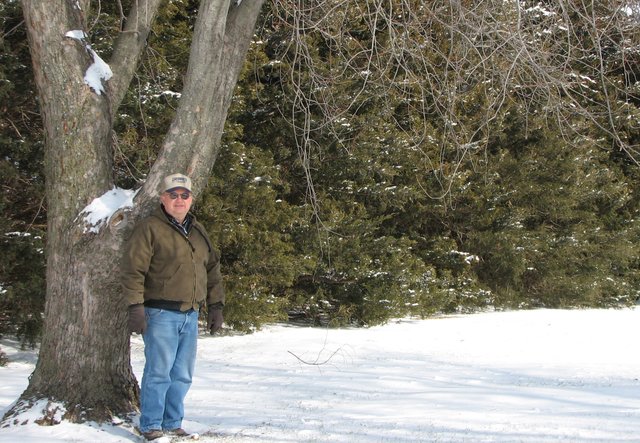 The row of tall Eastern Red Cedar trees on Ronnie Kenyon's farm just north of Basehor not only provides a nice winter sanctuary for the birds, it's saved him hundreds of dollars in heating bills through the years.
Kenyon grew up on this farm and the old house that he lived in still stands to the south of his current home, which he built in 1973. While Kenyon has gained several neighbors since completing his home, including a large subdivision across the street, the wide-open spaces that existed 30 years ago prompted him to start planting the windbreak in 1974. He said it blocks up to 90 percent of biting north wind, protecting his home from the cold.
"I started with probably a dozen or two dozen, then tried to add one or two a year," he said. "I got most of them out of people's pastures with their permission. To most people, they're probably a nuisance unless they're in a controlled area. It took quite a number of years, but actually surprisingly it grew pretty fast. Some are probably close to 40 feet tall."
His more than three-decade old project also earned him a Leavenworth County 2007 Kansas Bankers Association Conservation Award for windbreaks. According to the guidelines, those chosen for the award must have an established and well-maintained windbreak that is at least 3 years old. It must also provide adequate protection to structures, livestock or fields.
"The award is a way to recognize the effort and publicize the windbreak for others to try," said Mike Epler, an agent with the Leavenworth County K-State Research and Extension Office.
While the land isn't great for crops, Kenyon said he farmed for about 12 years and now leases the land to his neighbor and friend, Doug Creten, who has had better luck with soybeans, corn and wheat.
Kenyon continues to stay on the farm because he enjoys the peaceful rural lifestyle, he said. Several bird feeders and a heated bird bath on the back patio attract the birds who have made their winter home in the windbreak and provide some bird watching opportunities for Kenyon. Other wildlife that frequent the farm include pheasant and deer. He said that while a windbreak on the west side might also be beneficial, he enjoys watching the wildlife as well as the view of the landscape to the west.
"Out in western Kansas where it's really flat, they'll have a windbreak on two to three sides," he said. "If they didn't have them, I don't know how they'd even survive, so they do have a purpose."