THS

boys fall to Basehor-Linwood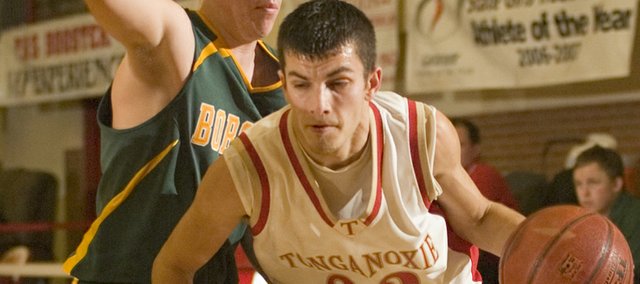 The Tonganoxie High boys basketball team had its two-game winning streak snapped Friday with a 54-42 loss against Basehor-Linwood.
Basehor Linwood's defense frustrated Tonganoxie, which committed 24 turnovers. The Bobcats only had eight.
"When we turn the ball over trying to set up the halfcourt offense and don't even give ourselves an opportunity, (24) possessions are a lot," Tonganoxie coach David Walker said. "You cut that in half and all of a sudden, it's a two to four-point ballgame going down the stretch."
Basehor-Linwood senior Tanner Swafford was the main source of frustration for THS, accounting for four steals.
Swafford also scored a game-high 29 points off 12-of-23 shooting. He hit 3-of-9 three pointers.
Senior forward Gabe Belobrajdic led THS with nine points and eight rebounds. Belobrajdic and Swafford guarded each other for the majority of the night.
"He's a good player," Swafford said of Belobrajdic. "He was a (Kaw Valley League) all-league player last year. He's strong and a good defender. And he'll score if you give him the ball. We had to keep an eye on him because he knows how to score."
Offensively, Swafford was tough to defend because of his ability to slash to the basket. If Belobrajdic respected his dribble, Swafford had no problem pulling up from long distance.
Tonganoxie dropped to 4-10 on the season. It was the Chieftains' second loss against Basehor this season.
Basehor-Linwood improved to 9-4 on the year. The Bobcats have won six straight games and are 6-0 in Kaw Valley League play.
See the Jan. 30 edition of The Mirror for the full story.
Scoring by quarter
Tonganoxie 14 10 5 13 - 42
Basehor-Linwood 14 15 10 15 - 54