THS

girls spoil Basehor's undefeated season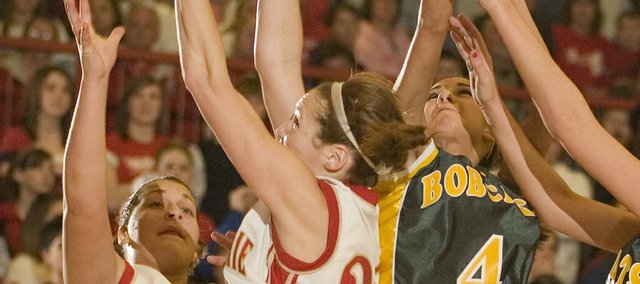 If there's any question regarding the progress of the Tonganoxie High girls basketball team in the last month-and-a-half, it was answered Friday night in epic fashion at the THS gymnasium.
Tonganoxie handed Basehor-Linwood its first loss of the year, 50-44, in overtime.
More than a month ago, the Bobcats beat the Chieftains by 24 points in the first game of the season.
That was then.
"This is an awesome feeling," senior guard/forward Liz Baska said. "We were never doubtful. We kept believing through and through."
Basehor-Linwood entered the game 12-0 and No. 3 in the Kansas Basketball Coaches Association's Class 4A rankings. THS, ranked No. 8 in the KBCA poll, improved its record to 12-2. The Chieftains have won eight straight games.
Tonganoxie overcame a nine-point deficit with 2:49 left in the final quarter. Basehor-Linwood senior guard Brooke Sanders, who led all scores with 21 points, drained one of her four three pointers to give Basehor a 39-30 lead.
The Chieftains comeback parade began after that shot.
Junior point guard Chrissie Jeannin hit a jumper from the baseline, then came up with a steal on the ensuing BLHS possession. Senior forward Shannon Carlin hit a jump shot in the lane to cut the lead to 39-34 with 1:44 remaining.
Basehor-Linwood missed its first foul shot on a 1-and-1 situation, and Carlin hit 1-of-2 free throws on Tonganoxie's next possession.
With Basehor-Linwood ahead, 39-35, THS senior guard Christy Weller drained a three-pointer to cut the lead to one with 0:40 left.
Tonganoxie put so much defensive pressure on Basehor-Linwood that Baska stepped in front of a pass and stole the ball with 0:23 left. Tonganoxie coach Randy Kraft immediately called a timeout.
"It was a crosscourt pass," Baska said of her anticipation. "I just saw it in the air and I didn't even look at the girl. I just went for the ball and luckily it popped straight up and I grabbed it."
On Tonganoxie's next possession, Baska drove the left baseline and drew a foul against Basehor-Linwood senior center Cassie Lombardino. It was Lombardino's fifth foul, which put her out of the game.
Baska made her first free throw to tie the game at 39.
Baska missed her second attempt, but Carlin kept the ball alive on the offensive glass and alertly passed to a wide-open Tracie Hileman underneath the net. Hileman completed the layup, which put THS ahead, 41-39, with 9.2 seconds left.
The Bobcats looked to their hot hand - Sanders - on their last chance in regulation. Sanders drove to the basket as the final seconds ticked away. She established position in the paint, drew a foul, and nearly made the layup in the process. It rimmed out, but Sanders had two attempts at the free throw line to tie the game with 4.7 seconds left.
Sanders drained both free throws.
With only four seconds left, Baska passed to Carlin, who actually had a decent look at the game-winner. Carlin was about four feet beyond the arc and missed the shot to the right.
Overtime.
Carlin drained two free throws with 50 seconds left to give THS a two-point lead. On Basehor-Linwood's next possession, Carlin stole the ball in stride and had a fast break opportunity if she wanted. That wasn't the smart play, though.
Cautiously, Carlin backed out of a drive to waste time off the clock and found Weller, who got fouled. Weller drained both free throws to make it a two-possession game and seal the victory.
"I really can't describe it," Kraft said. "I'm just so proud of the kids. They kept believing. Tonight, they showed a lot of resilience when they got down in the game. I was proud of them for not bucklin' and giving up. They kept finding a way."
Baska and Weller led THS in scoring with 13 points apiece.
Scoring by quarter
Tonganoxie 7 9 10 15 9 - 50
Basehor-Linwood 9 12 10 10 3 - 44