Chieftains ninth in stacked Baldwin invite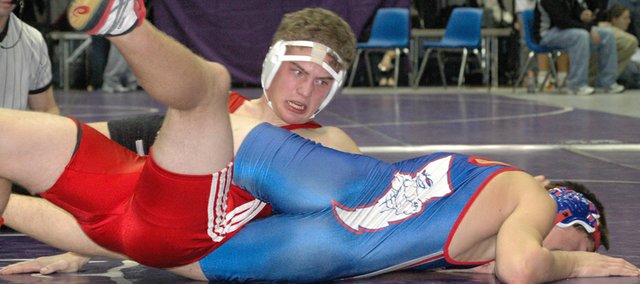 Photo Gallery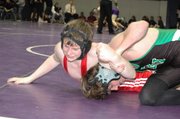 Baldwin Invitational
Baldwin — The Tonganoxie High wrestling team has seen its share of good fields this season in the six tournaments it has competed.
Saturday's Baldwin Invitational presented arguably the toughest field the Chieftains have seen all season. They finished ninth of 12 teams.
"This would be by far the hardest tournament we've been to this year," senior Travis Adcox said.
The Baldwin Invitational was so stacked it had seven Kansas Class 4A teams ranked in the top 12 on the Kansas Wrestling Web site www.usawks.com.
That didn't even include Saturday's winner, Oak Park (Mo.), which entered the tournament ranked No. 1 in Missouri. Oak Park dominated the tournament with 419 points. Santa Fe Trail finished second with 202, while Prairie View scored 181 for third. Tonganoxie had 134.
Oak Park won the Baldwin Invitational for the fourth straight year.
Adcox went further in his bracket than any other Chieftain in the tournament. He finished second in the 140-pound weight class, losing to Abilene's Quinton Wuthnow in the finals.
Adcox, who entered Saturday with a team-high 25 wins and only five losses, said the Baldwin Invitational humbled him.
"It opened my eyes up to see how much more training I need before state," Adcox said. "I need to build my stamina up. I'm going to do a lot of running. I'm basically going to run until I die. If I can build my stamina up, I'll be up there with the best of the best."
Tonganoxie had two wrestlers - Cameron Adcox (285) and Matt Brock (130) - wrestle in third-place matches.
Cameron Adcox finished in third place in the 285 bracket after he pinned Abilene's Tyler Gjerstad in 5 minutes, 50 seconds. He said he worked his opponent differently than he would work most heavyweights.
"I had to adapt my style to him," Cameron Adcox said. "This was my first time facing him. He kind of made me pull out my technical stuff. He was more of a power and throwing wrestler. Usually, heavyweights like to go for the tie-up, so that's what I usually base my game plan off of. But he didn't want to tie up. He wanted to go two hands on my wrist, so I had to move my feet a little bit more."
Brock finished in fourth place after he lost to Santa Fe Trail's Dustin Hill in the third-place match. Hill pinned Brock in 3:56.
Sophomore Zach Kaighin provided a spark for Tonganoxie when he won his fifth-place match against Kaw Valley League foe Chad Mauzey of Mill Valley. Kaighin won in a decision, 7-6.
Kaighin and Mauzey had actually seen each other two times before Saturday. They split the previous two encounters.
"He was one of the very first kids I pinned this year, and then he came back and pinned me a couple weeks later," Kaighin said. "It feels nice to beat him. Everyone has their good days and their bad days. I was hoping I was having a better day than he was having."
Junior Steve Davis finished in sixth place in the 171 bracket. Lansing's Nathan Wessel pinned Davis 3:55 into the match.
Two KVL schools - Lansing and Mill Valley - finished ahead of Tonganoxie on Saturday. The Chieftains expressed disappointment overall in their ninth-place team finish. The Chieftains will have another shot against the Lions on Thursday, though, when they travel to Lansing for a triangular dual against LHS and Bonner Springs.
"The good thing is, we're going to wake up and have a brand new day and a brand new week," THS coach Jeremy Goebel said. "Hopefully, it will motivate us and give us a little fuel for Thursday at Lansing."
Below is a list of how each THS wrestler did in the Baldwin Invitational. The wrestler's season record follows in parenthesis.
103 Jeff Ross: 1-4 (22-13)
119 Kevin Hamm: 0-1, forfeit (21-11)
125 Jake Willis: 1-4 (10-10)
130 Matt Brock: 2-2 (24-4)
135 Jon Harris: 1-4 (9-20)
140 Travis Adcox: 4-1 (29-6)
145 Matt Ditty: 2-3 (18-16)
152 Wyatt Coffin: 2-3 (19-12)
160 Jeremie Maus: 1-4 (20-13)
171 Steve Davis: 1-3 (21-10)
189 Zach Kaighin: 3-2 (22-12)
215 A.J. DeMaranville: 2-3 (16-16)
285 Cameron Adcox: 3-1 (23-8)
Team results
1. Oak Park (Mo.), 419
2. Santa Fe Trail, 202
3. Prairie View, 181
4. Baldwin, 167.5
5. Labette County, 155.5
6. Abilene, 155.5
7. Lansing, 146
8. Mill Valley, 136.5
9. Tonganoxie, 134
10. Paola, 119
11. Andover Central, 94.5
12. Rossville, 81.5