City, county salt supplies holding out this winter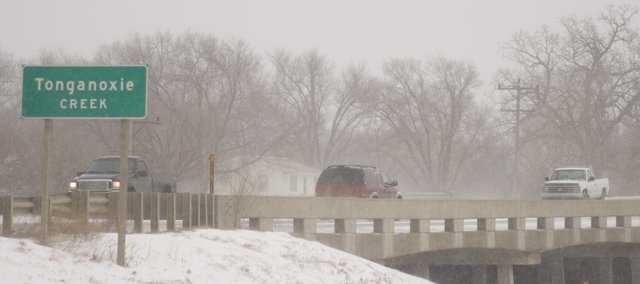 With the official start of spring still months away and snow in the forecast again this week, Tonganoxie, Leavenworth County and Kansas Department of Transportation officials are keeping a vigilant eye on the weather and their salt reserves.
"I guess you don't realize how much snow becomes this foe," said Kimberly Qualls, public affairs manager for District One of KDOT. "It's tough if you go two or three weeks in between snows. It's even harder when we've had them every other week. We started it off with the big ice storm, and since then it's just been back-to-back."
To combat snowy and icy conditions state, county and city crews have been working long days laying down the necessary product to treat roads.
Kathy Bard, Tonganoxie assistant city administrator, said the city used about 286 tons of salt to make the roads less icy in 2007.
The city does not get salt from the state, but purchases it from Larry Stockman, of Tonganoxie Rocks, which owns the salt-filled silos in town.
Currently, Stockman has about 200 tons of salt left in the silos. He said the remaining salt will be sold exclusively to Tonganoxie and McLouth.
Stockman has been selling the salt at $60 a ton, but now it is getting harder to replenish his reserves since any extra salt is going to KDOT first. Salt is now costing him $100 a ton just for transportation. This means the city's cost for the deicer is going to increase.
"It's going to have to go up," Stockman said Monday. "I like the city, but I can't support the costs."
Bard said the city purchases the salt by the ton as needed because there currently is no city-owned facility to store extra salt.
To conserve reserves, she said the city cuts the salt with sand to create a 50/50 mixture.
The state, on the other hand, orders its salt for the Kansas City area from companies around the country. Qualls said the amount purchased is based on the amount of product needed on a yearly average. This year they did not anticipate so much snow and ice.
"This year we are down on salt," Qualls said. "When you have so many back-to-back storms, everyone is going to need salt. The salt companies can only produce so much salt in a day."
To ease back on the salt usage, KDOT has started to cut more and more of the salt with sand. Qualls said ideally, KDOT would only put down salt, but it does not want to exhaust its supply and have another storm hit the area.
She said KDOT officials also prioritize the salt needs and shift it around to different areas as needed.
Before snowstorms earlier this month, KDOT had 1,200 tons of salt on sand for highways in Leavenworth and Wyandotte counties. This was after a 450-ton salt delivery on Dec. 28. Road crews used 350-tons of salt to clear the roads, leaving the two counties with 850 tons in reserve.
Mike Spickelmier, Leavenworth County Public Works director, said the county's salt reserves are starting to be replenished.
"We have received some of our pending orders, and are still in good shape at this point," he said.
On Friday Spickelmier approximated the county's salt level at 300 tons with nearly twice that amount in a salt and sand mixture already prepared. He expects the reserves will last for at least two more snowstorms.