City, school pay homage to
THS

' new state champs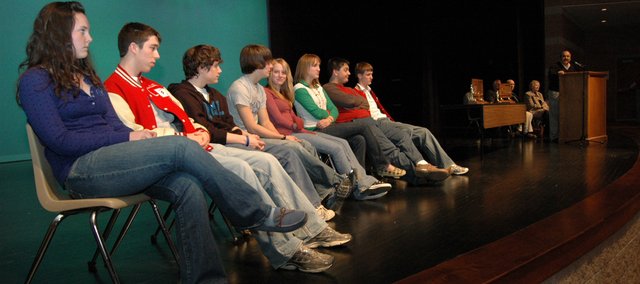 Tonganoxie's newest state champions were the main event last week during an assembly at the Tonganoxie Performing Arts Center in Tonganoxie High School.
Students, as well as past and present city officials, were on hand Wednesday, Jan. 23, to recognize the THS debate team, which added more awards to its storied program's history by winning a state title Jan. 19 in Garden City.
A student-produced video set to music, which featured several of this year's debate team members, was shown at the assembly.
THS principal Jamie Carlisle then congratulated the debate team for doing what so many other teams, such as athletics teams, dream about doing - winning a state championship.
The two-speaker teams of juniors David Powell and Dalton Lawson, as well as seniors John Lane and Matt Williams advanced on both sides of the two-speaker bracket.
Because two teams from the same school would not debate each other, one team was designated the state champion and the other the runner-up.
The four-speaker group of juniors Addy Phelps and Alicia Osborne and seniors Ann Erickson and Jake Bontrager placed third in their category.
In essence, the Chieftains brought home first-, second- and third-place trophies.
"What a tremendous accomplishment," Carlisle said.
All eight debate team members were seated on the left side of the TPAC stage, with their trophies at center-stage and city officials, as well as Carlisle and Superintendent Richard Erickson to the right.
Former Mayor Dave Taylor, as well as former Council member Velda Roberts, spoke to the student body at the assembly, as did City Administrator Mike Yanez and Council member Tom Putthoff.
Taylor told a story about a time he was in a Missouri town where a fund drive was under way for new high school band uniforms. Taylor said he would donate a certain amount of money if the person who was doing the fundraising could pronounce "Tonganoxie."
The man successfully did so, noting that he lived in Tonganoxie when he was a youngster. Taylor congratulated the debate team and reminded them to remember their roots.
Yanez said current Mayor Mike Vestal could not attend the assembly, but Yanez passed along Vestal's thanks to the debate teams "for bringing the state trophy back to Tonganoxie where it belongs. Keep it up and bring it back next year and the years to come."
Yanez informed the debate members that they were developing abilities that would help them in the future.
"We can all learn from you and your abilities," Yanez said.
When Putthoff spoke to the student body, he made mention of a lengthy speech.
"I had a 30-minute speech written up, but my dog ate it," Putthoff said, which drew laughs from students.
He too congratulated the youths for their many accomplishments.
Roberts spoke as well, giving her bit of advice to students also.
"Don't be afraid to step outside of the box," she said.