Returning the favor
THS

girls hand Basehor first loss of season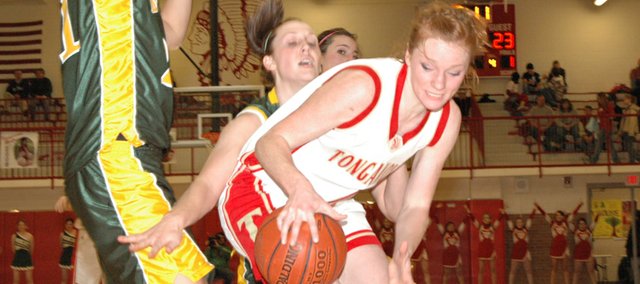 Photo Gallery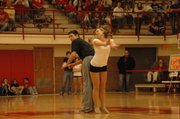 Halftime show
The Chieftains Stars performed a halftime dance for Friday's THS vs. Basehor-Linwood game.
Photo Gallery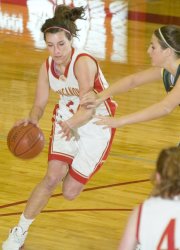 THS girls vs. Basehor-Linwood
The Tonganoxie High girls basketball team made sure the latest installment of the THS/Basehor-Linwood rivalry took an extraordinary turn.
Tonganoxie defeated previously undefeated Basehor-Linwood, 50-44, in overtime on Friday night in easily the most heart-pounding game the Chieftains have played all season.
"I feel like I can run a marathon," senior guard/forward Liz Baska said, following the victory.
Basehor-Linwood entered the game 12-0 and ranked No. 3 in the Kansas Basketball Coaches Association Class 4A poll. THS, ranked No. 8 in the KBCA poll, improved its record to 12-2.
More than a month ago, the Bobcats beat the Chieftains by 24 points in the first game of the season.
Since then, THS has looked like a completely different team.
The Chieftains have now won eight games in a row. Since the earlier Basehor-Linwood loss, THS has gone 6-0 in Kaw Valley League play.
The most recent THS triumph Friday didn't simply fall into the laps of the Chieftains. THS found itself trailing, 39-30, with 2:50 left in the fourth quarter.
With Basehor-Linwood ahead, 39-35, with 50 seconds remaining, THS senior guard Christy Weller came up with a crucial steal. On Tonganoxie's next possession, Weller drained a three-pointer and cut the lead to one with 40 seconds left.
No panic in the way THS conducted itself on the court while trailing.
"We never stopped believing," Baska said. "That was the main thing, is we were never doubtful. I just think that we kept believing, through and through. I can honestly say that I never really realized we were down by nine."
That's likely because the Chieftains put so much defensive pressure on the Bobcats that whenever THS needed a turnover late in the game, someone seemed to come up with a steal.
Case in point with 23 seconds left and Basehor-Linwood leading, 39-38, with the ball. That is, until Baska stepped in front of a pass. Tonganoxie coach Randy Kraft immediately called a timeout.
"It was a crosscourt pass," Baska said of her anticipation. "I just saw it in the air and I didn't even look at the girl. I just went for the ball and luckily it popped straight up and I grabbed it."
On Tonganoxie's next possession, Baska drove the left baseline and got fouled, sending her to the line. Baska made her first free throw and tied the game at 39.
Baska missed her second attempt, but Carlin kept the ball alive on the offensive glass and alertly passed to a wide-open Tracie Hileman underneath the net. Hileman completed the layup, which put THS ahead, 41-39, with 9.2 seconds left.
The Bobcats looked to their hot hand - senior guard Brooke Sanders - on their last chance in regulation. Sanders, who had a game-high 21 points, drove to the basket as the final seconds ticked away. She drew a foul and nearly made the layup in the process. It rimmed out, but Sanders made two clutch free throws to send the game into overtime.
In overtime, Carlin drained two free throws with 50 seconds left, giving THS a two-point lead. On Basehor-Linwood's next possession, Carlin stole the ball in stride and backed out of a drive to the basket to waste time off the clock. Carlin passed to Weller, who was fouled. Weller drained both free throws to make it a two-possession game and seal the victory.
Carlin scored only seven points, but was all over the glass. She grabbed three crucial offensive rebounds off of free throws in the last three minutes of regulation and overtime. Carlin's aggressive play was even more impressive, considering she picked up her fourth foul early in the third quarter.
"Kraft really got on my butt about getting rebounds and after a few good yellings I never got in my life before, I was bound to get rebounds," Carlin said. "I was going to box out, get my butt into someone and rebound the ball. Scoring wasn't important. Scoring's not the most important part of the game. Defense, rebounding and getting the boards are."
Baska and Weller led THS with 13 points apiece.
Tonganoxie has the week off and won't play its next game until Feb. 5 against Santa Fe Trail at home.
"I really can't describe it," Kraft added after the victory. "I'm just so proud of the kids. They kept believing. Tonight, they showed a lot of resilience when they got down in the game. I was proud of them for not bucklin' and giving up. They kept finding a way."
Scoring by quarter
Tonganoxie 7 9 10 15 9 - 50
Basehor-Linwood 9 12 10 10 3 - 44