Warriors fall at home vs. Pirates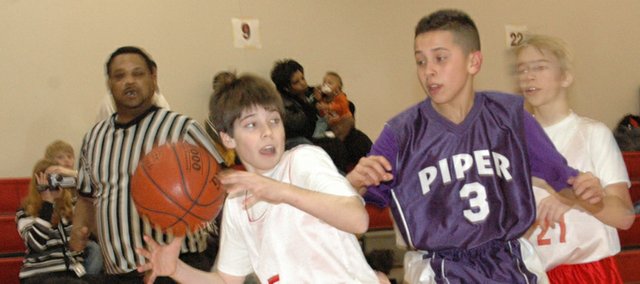 Photo Gallery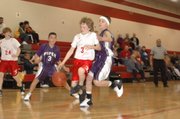 TMS vs. Piper
The Tonganoxie Middle School seventh grade A team couldn't keep up with Piper's speed on Jan. 22.
As a result, the Warriors lost to the Pirates, 43-15, in their own gymnasium.
Tonganoxie dropped to 0-3 on the season.
On the bright side for TMS, Cody Saladin gave the Warriors a serious boost off the bench. Saladin scored the Warriors first field goal. He also started the second half with a layup, which cut the Piper lead to 20-9.
Saladin also displayed some range, knocking down a bank shot from the left wing in the fourth quarter. He scored a team-high seven points.
Saladin established position in the paint consistently, but his teammates had trouble feeding him in the post. This was because of Piper's speedy perimeter players. Piper didn't full-court press, but as soon as Tonganoxie crossed halfcourt, PHS was waiting.
Piper's Keaton Coefield, Dominic Sanchez and Dalton Hays intercepted passes along the wing and in transition with regularity. When TMS tried to establish the fast break, the pesky Piper players seemed to anticipate every passing lane.
Zach Tallent scored Tonganoxie's final three points. Keaton Truesdell hit 1-of-2 free throws, then hit a jump shot from the right baseline in the fourth quarter. He finished with three points.
Talent scored a layup for Tonganoxie, Conner Kietzmann drained an impressive shot after coming to a jump stop, and Luke Faherty scored one point off a free throw.
For more pictures from the game, visit www.tonganoxiemirror.com.