Winning streak halted vs. Bobcats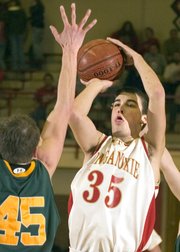 The Tonganoxie High boys basketball team had its two-game winning streak snapped Friday with a 54-42 loss against Basehor-Linwood.
Basehor-Linwood's defense frustrated Tonganoxie, which committed 24 turnovers. The Bobcats only had eight.
"When we turn the ball over trying to set up the half-court offense and don't even give ourselves an opportunity, (24) possessions are a lot," Tonganoxie coach David Walker said. "You cut that in half and all of a sudden, it's a two- to four-point ballgame going down the stretch."
Basehor-Linwood senior Tanner Swafford was the main source of frustration for THS, accounting for four steals.
The Bobcats didn't shoot well (38 percent, compared to Tonganoxie's 45 percent), but had considerably more opportunities because of the turnovers they forced.
"That's been big for us all year," Basehor-Linwood coach Mike McBride said. "Our shooting percentage wouldn't be considered phenomenal by any stretch of the meaning. But we're getting seven or eight more possessions, so we can shoot a little bit lower percentage if we keep playing that kind of defense."
Swafford scored a game-high 29 points off 12-of-23 shooting. He hit 3-of-9 three pointers.
"Obviously tonight, when we were flat; he came up huge," McBride said of Swafford. "Now that we're getting ready for sub-state, he has his confidence. Hopefully, he plays like that all the time."
Senior forward Gabe Belobrajdic led THS with nine points and eight rebounds. Belobrajdic and Swafford guarded each other for the majority of the night.
"He's a good player," Swafford said of Belobrajdic. "He was a (Kaw Valley League) all-league player last year. He's strong and a good defender. And he'll score if you give him the ball. We had to keep an eye on him because he knows how to score."
Tonganoxie dropped to 4-10 on the season. It was the Chieftains' second loss against Basehor-Linwood this season.
Basehor-Linwood improved to 9-4 on the year. The Bobcats have won six straight games and are 6-0 in Kaw Valley League play.