Candidate Profile: Ted Ingerson
Editor's note: The following candidate profiles, written by reporter Joel Walsh, continue The Mirror's series of profiles on local candidates running in primary elections Tuesday, Aug. 5.
Rural Tonganoxie resident and Republican candidate for the Kansas House of Representatives 42nd District Ted Ingerson wants "to be a part of the legislative process" for several reasons.
The delivery professional with Geiger Ready-Mix Co. knows first hand how rising fuel prices and affordable energy demands are effecting businesses in the state.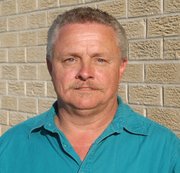 Ingerson, in response to a questionnaire recently sent to candidates by The Mirror staff, said he supports locating additional coal-fired power plants in Kansas but added that carbon emission should be kept "very low" and coal-fired energy should be harvested in conjunction with other energy sources, such as wind power.
"They will bring to the state much needed jobs and revenue," Ingerson said of coal-fired power plants like the two proposed facilities that have been blocked by Kansas Secretary of Health and Environment Rod Bremby and Kansas Governor Kathleen Sebelius since last October.
As for reducing gasoline prices, Ingerson said, "That is something that needs to be addressed at the national level."
In response to the question, "What would be your top priority if elected to the Legislature," Ingerson said his focus would be to "reduce spending due to budget shortfalls (and) create an atmosphere to increase new business growth."
He said all areas of the state budget should be reduced - aside from public education, if possible.
Ingerson also indicated he would not be in favor of extending state services to undocumented immigrants and would not support an increase in Kansas' cigarette tax.
The husband, father of five and grandfather of 11 will meet Connie O'Brien, a retired teacher with Basehor-Linwood School District and vice chair for the Leavenworth County Republican Party, in an Aug. 5 Republican primary election for the 42nd District seat, currently held by state Rep. Kenny Wilk, R-Lansing.
The winner of that primary will face Democrat Timothy Moran, a retired U.S. Army officer and certified project management professional from Lansing in a Nov. 4 general election.
Kansas' 42nd District encompasses the cities of Tonganoxie, Linwood, parts of Lansing and Leavenworth and Reno, Stranger and Tonganoxie townships.
To read Ingerson's full responses, go online at www.tonganoxiemirror.com.
For more information or to register to vote, contact the Kansas Secretary of State's office at (785) 296-1594.