Ted Ingerson candidate questionnaire responses
Editor's note: The following are responses to a questionnaire mailed to candidates in the upcoming Aug. 5 primary election. Look for more candidate profiles and full responses to the questions leading up to the primary.
Name: Ted Ingerson
Place of Residence: Rural Tonganoxie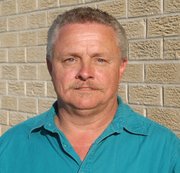 Birthdate: Sept. 22, 1959
Family: Married with five children and 11 grandchildren
Religion: Pentecostal
Education: Tonganoxie High School Class of 1977, one year of vocational training
Occupation: Delivery professional with Geiger Ready-Mix Co.
Political and government experience: N/A
Clubs or organizations: N/A
Why are you running for state representative? "I want to be a part of the legislative process and represent the people of my district."
What would be your top priority if elected to the Legislature? "Reduce spending due to budget shortfalls; create an atmosphere to increase new business growth."
Would you support a no-growth state budget for public schools and higher education? "No."
What should be done on the state level about illegal immigration? "No drivers licenses, no state aid. Undocumented people should not be allowed to work. When discovered, deport them."
Are you in favor of locating additional coal-fired power plants in the state? Why or why not? "Yes. They should be up to date on emissions (very low). They will bring to the state much needed jobs and revenues and also should be used along with wind power."
Would you support an increase in the cigarette tax? "No."
What areas of the state budget should be reduced? What areas should be increased? "All areas need to reduce budget. If possible, not education."
What should be done on the state level to reduce gasoline prices? "That is something that needs to be addressed at the national level."
What differentiates you from the other candidates filing for this office? N/A