Long holiday weekend for Post 41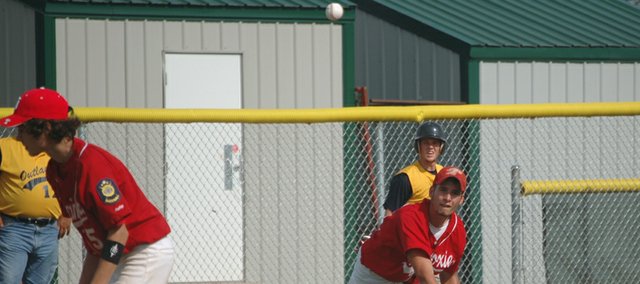 The Fourth of July weekend started with a bang but ended with few fireworks for the Post 41 baseball team this past week as Tonganoxie won two games on Thursday before dropping four straight on the weekend.
The final two contests on Sunday evening at Leavenworth County Fairgrounds were the worst of the holiday weekend for Post 41, which lost the first game to the Easton Outlaws, 17-4, in five innings before the Outlaws finished the sweep with a 10-1 victory in the second contest of the twinbill.
Tonganoxie, battling the hottest day of the summer to date as well as fatigue from playing so much in four days, scored all four of its runs with two outs in the bottom of the third inning during the first setback.
Brett Bailes reached on an error with one out to give Post 41 its first baserunner. Bailes then stole second base and later advanced to third on a James Bailey ground out.
Pat Gallagher drove Bailes in with an RBI single to right field. After Gallagher stole second to secure scoring position, he was plated by Ryan Stockman, who blasted a two-run homer over the left field wall.
Tonganoxie (4-12) kept the two-out rally going when Jeremy Wagner doubled to left and took third base on a throwing error. Wagner scored the team's fourth and final run when Grant Ebbert drove him in with a single.
Leavenworth Wranglers sweep Post 41
Tonganoxie lost a pair to the league-leading Leavenworth Wranglers on Saturday at Leavenworth Sportsfield.
"My guys are continuing to show improvement and played well even though we lost," coach Pat Bailey said afterward. "Their bats were just a little better than ours on Saturday."
Post 41 lost the first game of the doubleheader, 10-4. The game was tied at 2 early on but the Wranglers scored three in the third inning and piled on five more in the sixth.
Stockman went 2-for-3 with a double in the loss. Wagner was 2-for-4. James Bailey, Jon Harris and Corey Klinkenburg all had doubles.
Tonganoxie improved offensively in the second contest, which only went four innings because of time, but still lost, 12-11.
Post 41 led, 10-8, after three innings but the Wranglers scored four in the top of the fourth and Tonganoxie only answered with one in what proved to be its final at bat.
Kyle Newton, Jacob Stauch, Bailey, Gallagher, Stockman, Wagner, Ebbert, Harris and Klinkenburg all recorded hits for Post 41 in defeat.
Post 41 takes two from Cubs
Tonganoxie secured its third and fourth wins of the season on Thursday with a sweep of the Lansing Cubs at Leavenworth County Fairgrounds.
Gallagher registered a complete game and a shutout in a 13-0, four-inning affair in the first win.
Jon Harris led the offense with a home run, a double and two runs. Wagner, Ebbert, Newton and Bailes all helped the cause by going 2-for-2 with a double. Klinkenburg also doubled.
Stauch threw all seven innings and picked up a victory in the second game, an 11-4 Post 41 win.
Bailes went 3-for-4 with a double. Bailey went 1-for-2 with two walks and scored three runs. Harris was 2-for-3 and scored twice. Stauch went 2-for-2 and Ebbert doubled.
Post 41 will look to get back in the win column on Thursday at 6 p.m. when the team travels to Lansing for a doubleheader with the Cubs.