Belobrajdic signs up for two sports at Ottawa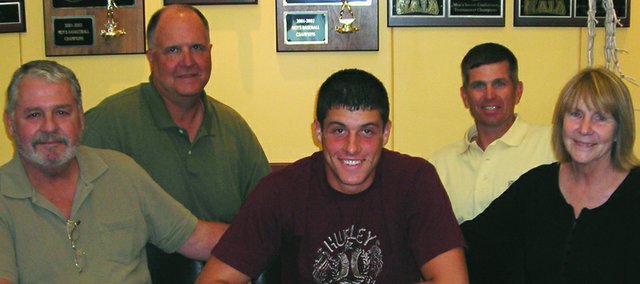 The Ottawa University's men's basketball program has announced the signing of Tonganoxie High graduate Gabe Belobrajdic for the upcoming 2008-09 year.
Belobrajdic, a 6-1 guard from Bonner Springs, earned four letters in basketball and track for the Chieftains and earned all-conference and all-area honors in both basketball and track.
This past season, Belobrajdic averaged 12 points, six rebounds and blocked two shots a game for the Tonganoxie boys basketball team. In the spring, he had the opportunity to play against the seniors from the NCAA men's basketball national champion Kansas Jayhawks.
Ottawa University men's basketball coach Andy Carrier said Belobrajdic would be a nice addition to the Braves in both of his chosen sports.
"Gabe is another great fit at OU. He will be a solid contributor in both basketball and track and will be a good student in the classroom," Carrier said. "Basketball-wise, he will most likely need to develop his skills in our junior varsity program."
Belobrajdic will compete for the Braves track team in the spring. He placed seventh in the javelin at the Kansas State High School Class 4A Track and Field Meet in Wichita.
"Gabe is an outstanding student-athlete and will provide a lot of quality experience for the track team," said OU track coach Kirk Wren. "He comes from a rich high school tradition in track and field."
Belobrajdic is the son of Daniel and Brooke Belobrajdic and plans to major in exercise science.