Board OKs funding for potential festival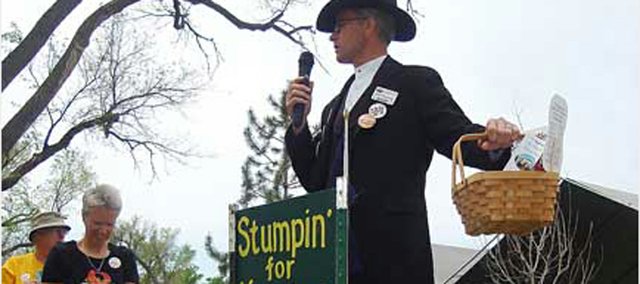 County commissioners took the first step among area governing bodies in signing off on a funding agreement that would be used should the Kansas Sampler Festival be brought to Leavenworth County in 2010 and 2011.
The agreement, in which the county would allot approximately $138,000 toward the projected $240,000 price tag for the festival over two years, was unanimously approved by commissioners after they discussed how the festival director's salary would be reimbursed by the Sampler Festival Foundation, a limited liability corporation funded by Leavenworth County and the four major cities in the county under an agreed-upon formula.
County Administrator Heather Morgan raised the question of whether the $35,000 salary for the festival director would be counted as an in-kind expenditure if the director is a county employee.
"The more convoluted you (the commission) make this, the more problems we're going to run into," Morgan said, noting the "headaches" of trying to document in-kind contributions.
Commissioner Dean Oroke suggested working out the details for the director's salary in a separate management agreement. He said it was necessary to begin forwarding a county-approved funding agreement to city managers, administrators and council members as soon as possible to meet the official application deadline for playing host to the 2010 and 2011 Sampler Festival, which, according to Leavenworth County Counselor-at-Large Keyta Kelly, falls next month.
The Kansas Sampler Festival was first staged in 1991 in Inman to celebrate everything there is to see, do, hear, taste, buy and learn in the state.
Since moving from Inman for the first time in 1998, other host cities have included Pratt, Ottawa, Independence, Newton and, most recently, Concordia.
Kelly, who has been heavily involved in submitting a bid to make Ray Miller Park in Leavenworth that next site for the Sampler Festival, said the festival brought more than 8,000 visitors to Garden City in 2007.
She noted that, with a greater population to draw from in northeast Kansas and with 2011 being Kansas' sesquicentennial, she thinks that number could double in Leavenworth County.
Also on Monday, the commission tabled, 3-0, the issue of accepting a voluntary annexation request from the city of Basehor for the Field of Dreams youth baseball complex about one-half mile west of Kansas Highway 7, just south of Fairmount Road.
Although it would be an island annexation not contiguous with Basehor city limits, Basehor planning director Dustin Smith said Field of Dreams is currently owned and operated by the Basehor Athletic Association and is connected to Basehor's sewer system.
Commissioner J.C. Tellefson said the board would need more time to research the implications of Basehor annexing all, none or up to the centerline of a stretch of Fairmount road north of the complex before making a decision.
Tellefson said commissioners typically expect an annexing entity to annex all of an adjoining road along with all temporary and permanent easements and to take over maintenance responsibilities for that road.
County engineer Mickey Swartzkopf noted that homeowners' property in neighboring Theno Estates - or the Victory Crest subdivision - runs to the centerline of Fairmount Road, and Morgan questioned who would take on maintenance for wastewater lines in the subdivision, further complicating the issue.
In other business, the board:
¢ Discussed what to do about the boardroom's sound recording system, which was damaged by a power surge Wednesday, July 2.
Information systems director Larry Malbrough recommended releasing a request for proposals for new recording hardware, which he estimated would cost approximately $5,000 and would record public meetings on four different channels as to prevent feedback from other microphones.
According to County Counselor David Van Parys the old recording system, which commissioner Clyde Graeber called "a constant problem," was "extremely difficult to use to obtain transcripts."
¢ Voted, 3-0, to repeal a resolution dated April 1, 1974, that established the Leavenworth County Civil Service Board.
Commissioners expressed gratitude for members of the public who have served on the board, which was originally intended to ensure employees are fairly employed and not terminated for arbitrary or unjust cause, but said it is increasingly difficult to find residents who are willing and able to serve and that many of the rights the civil service board worked to ensure are now guaranteed to employees under state and federal law.
¢ Heard a quarterly report from director of Juvenile Services Bob Doyle, who reviewed daily population numbers and up-to-date expenditure and revenue amounts at the juvenile detention center.
¢ Heard a quarterly report from Emergency Management director Chuck Magaha.
Magaha explained his department's involvement in various exercises, training and emergency events - including inclement weather, hazardous material spills and a plane crash in southern Leavenworth County - during the past three months.
¢ Met in two 10-minute executive sessions to discuss the acquisition of real property and personnel matters. No action was taken when commissioners returned to regular session.