Candidate profile: Debra "Deb" Snider
Editor's note: The following candidate profiles, written by reporter Joel Walsh, continue The Mirror's series of profiles on local candidates running in primary elections Aug. 5.
Debra "Deb" Snider, a criminal defense attorney from Lansing, says she is "the right choice" for Leavenworth County Attorney as an Aug. 5 Republican primary election for the office nears.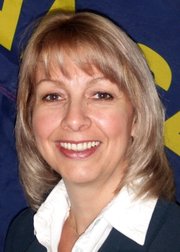 Asked in a recent candidate questionnaire why she is running for county attorney, Snider, who currently works as a trial lawyer with Leavenworth-based Snider Law Office, said, "I believe that good, old-fashioned hard work, combined with leadership and integrity, can make the county attorney's office more effective in prosecuting criminals and protecting our families and businesses."
She called the current crime rate in Leavenworth "unacceptable," adding, "as a citizen, I am greatly concerned about this. As a trial lawyer, I am aware of deficiencies in the county attorney's office. I believe that with the proper leadership and a structured plan of action, these problems can be reduced and hopefully eliminated."
Snider noted plea agreements with repeat offenders as one such "deficiency" under the county's current county attorney, Frank Kohl.
She acknowledged that plea negotiations are a necessary part of the criminal justice center - without which the courts would become "gridlocked" and "backlogged" - but she said "the important aspect to plea agreements is to carefully regulate their use and scope. That is where the experience and sensibility of the county attorney are so vitally important. A prosecutor has to use good judgment in determining how and when to negotiate plea agreements - and when not to."
Snider, a 1999 graduate of Kansas University's School of Law, began trying cases in 2000 and, she said, she has roughly 100 jury and bench trials under her belt since.
She stressed that through serving as an office manager for several different professional firms, the most recent being an international trade law firm in Washington D.C., and operating her own law office, she has the requisite courtroom, life and professional experience to be considered for Leavenworth County's next lead prosecutor.
"As a trial lawyer, I can quickly assess a case to know both its strengths and weaknesses and to structure my courtroom arguments accordingly. I am not afraid of going to trial, and I do it frequently," Snider said. "As a manager, I can work with all types of people to accomplish a goal, and I know how to positively motivate workers to function as an effective team.
"As a person, I believe that I should try to do my best no matter how difficult or unpopular the job may be. I believe my work ethic is above reproach. As a 'politician' I can make only one promise: If I am elected, I will try my best - everyday - to do a good job for the people of Leavenworth County."
Snider will square off with former assistant county attorney and the only other Republican candidate to file for the county attorney post, Todd Thompson, in an Aug. 5 primary.
The winner will meet Kohl, a Democrat, in a Nov. 4 general election.
For Snider's full responses to a candidate questionnaire, go online at www.tonganoxiemirror.com.