Candidate profile: John Flower
Editor's note: The following candidate profiles, written by reporter Joel Walsh, continue The Mirror's series of profiles on local candidates running in primary elections Aug. 5.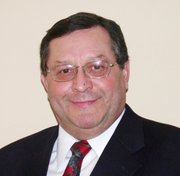 John Flower, one of seven Republican candidates for the Leavenworth County Commission's soon-to-be-vacated 3rd District seat, said he hopes to promote "intelligent growth" in the county if elected to the position this fall.
The southern Leavenworth County resident with experience as chair of the Basehor Planning Commission, president of the Cedar Lakes Estates Homes Association and a member of the Kansas State Library Board said in a recent candidate questionnaire that his top priority as county commissioner would be "to ensure we control taxes and manage our growth while honoring our rural way of life.
"I feel a strong commitment to make our district a good place to live and work. I will work hard for the citizens of District 3 to improve our quality of life and enhance our tax base through intelligent growth," he said as his reasoning for running for office. "We must move from depending mostly on real estate taxes for our services. This will require us to look for new business in Leavenworth County. They will assist us in lessening the tax burden on real estate while helping in the provision of services. We must do this in a manner which minimizes the impact to our environment and our community as a whole : It (intelligent growth) also means we stop or slow urban sprawl."
Flower, a former sales consultant and manager for almost 35 years with AT&T Inc., said his experience managing large groups of people - often "located throughout the U.S." - and balancing large-scale budgets singularly qualifies him for the 3rd District commission seat currently held by commissioner Dean Oroke, a Republican.
"My background has given me experience in every aspect of being a county commissioner," Flower explained. "I know how to manage employees, build budgets and meet those budgets."
In response to how he would like to see such large-scale capital improvement projects, such as the County Road 1 interchange project and a countywide communications upgrade progress, Flower said: "The immediate answer is with due care to ensure the citizens of Leavenworth County get full value for their dollar.
" : It's important for us to be diligent with taxpayers' money and ensure it is spent effectively on the projects, giving maximum value for dollars expended."
As for the possibility of locating a combined regional air and business park in the county, he said that decision would have to be made following a feasibility analysis, which is pending.
Flower noted he would "make every effort to continue to control taxes for our citizens" while still ensuring the services that Leavenworth County residents have come to expect.
"I believe my background, experience and education uniquely qualifies me to be the next 3rd District County Commissioner," he stated. " : Plus, I listen well to all parties. I want the citizens of southern Leavenworth County to be able to say voting John Flower as their county commissioner was the best thing they could have done."
Flower will vie for the 3rd District Republican nomination in an Aug. 5 election along with Beverly "Bev" Oroke, Francis Hurla, Dave Taylor, William "Bill" Merkel, Marvin Torneden and Tony Klamm.
A Nov. 4 general election with sole Democratic challenger Pete Henderson is set to follow.
Check next week's Mirror for profiles on more of the candidates running for the 3rd District County Commission post, and for Flower's full responses to a candidate questionnaire, go online at www.tonganoxiemirror.com.