Gunning for their future
Young Post 41 players use experience as stepping stone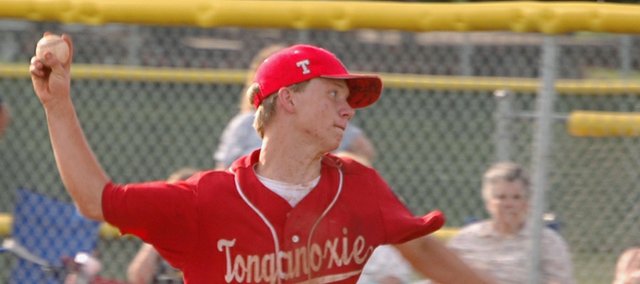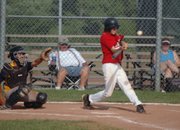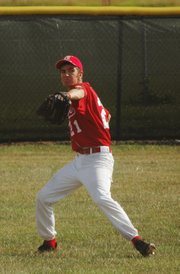 What's bad for Pat Bailey is good for the future of Tonganoxie High baseball.
The Post 41 baseball coach, Bailey works each summer with some THS players who have little or no varsity experience while those who do primarily play for Tonganoxie's other summer squad, the Tonganoxie Chieftains.
Eventually, the younger players on the 19-and-younger American Legion team will go on to play or even star for THS, likely leaving the Post 41 team behind.
Bailey said a lot of the younger players on the team, which fields a roster from ages 14-19, will become productive players for Tonganoxie High someday soon.
"Unfortunately, they probably won't be back with me next year," he said with a smile.
Bailey is happy with his role in the process because he sees players improve throughout the summer.
"We've got some kids who have already made some big strides this season. I feel like we're helping them," he said.
Still, human nature, Bailey admitted, can make things a tad bittersweet when players get older and leave the Post 41 team behind.
"I get frustrated, too," he said candidly. "I wish they'd stay with me and come back next season. If I had the team I had three years ago we'd wipe out this league."
Instead, Post 41 is struggling with a 4-12 record. It can be draining on the players, especially when they have six games in four days like they did this past Thursday through Sunday, going 2-4 and dropping the last two to the Easton Outlaws by a combined 22 runs.
But for young players who want to get better so they can play for the THS varsity team next year, playing for Post 41 is their best option. Four of the team's key contributors - Brett Bailes, Pat Gallagher, Corey Klinkenburg and Jeremy Wagner - fall into that category, and Bailes said they are making the most of their opportunities.
"I want to go to college with baseball. I'm trying to do everything I can up here in a 19-and-under league and I'm only 15. All of us younger guys are getting a lot of experience and playing time and we know what it's like (now) to be out there with the big kids," said Bailes, who will be a sophomore in the fall. "No one intimidates me."
Gallagher, 16, an infielder who saw a little time for THS this past spring, said every time he steps on the field this summer he expects it to better prepare him for the future.
"The goal is to improve here so we can improve during the school season," he said. "I think that's what our coaches want."
That's what Gallagher wants, too. He said he ran into a few problems in his limited varsity experience at THS this year and doesn't want history to repeat itself next season.
"I missed a couple of grounders, called off our all-league right fielder, made some bonehead moves," he recalled, saying this summer should help him correct those mistakes. "I want to play, but I want to get better."
On the opposite end of the Post 41 spectrum, you have Ryan Stockman. He graduated in the spring and hasn't played for THS since his sophomore year. He just likes playing for the team because it helps him stay in shape, stay busy and stay out of trouble.
The No. 3 hitter and third baseman, Stockman, 18, has found himself in a leadership role with the younger players.
He tries to emphasize the importance of improving with every game and he thinks the young guys could be key in the future of THS baseball.
"If they stick with it they're going to be good," Stockman said. "They're already pretty good."