Taking work home
Vehicle usage policy varies for local school districts, cities and counties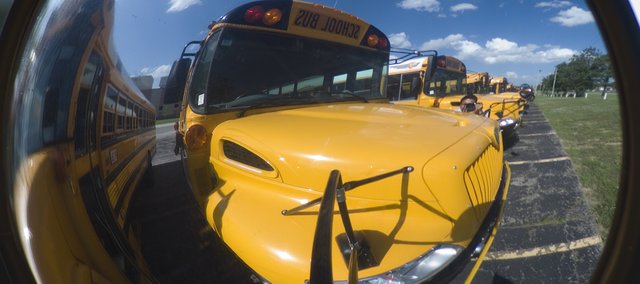 Editor's note: This is a group project of World Company newspapers evaluating policies and practices of local cities, counties and school districts when it comes to employees driving government vehicles to and from work. Newspapers included in this project are The Baldwin City Signal, Basehor Sentinel, Bonner Springs Chieftain, De Soto Explorer, Eudora News, Shawnee Dispatch and The Mirror. Additionally, look for reports from The Lawrence Journal-World in the future online at www.tonganoxiemirror.com.
Leavenworth County
With the price of gasoline soaring, times are tight, different agencies' budgets will surely be increasing this year and Leavenworth County elected officials and department heads say they are fully aware that more and more of local taxpayers' money is going toward rising fuel costs.
One area that has caused some concern through the years is the number of county employees who drive government-owned vehicles to and from work.
In Leavenworth, there are 43 county-owned vehicles that currently travel home with employees, with the lions' share of those being driven by sheriff's deputies on patrol duty, but also by staff with Leavenworth County Emergency Medical Services, Emergency Management and by one employee in the public works department.
Sheriff David Zoellner said recently that patrol deputies average between 150 and 180 miles per shift, including travel to and from work, adding, "a lot of that's based on the amount of calls we receive."
According to him, sheriff's office administrators routinely monitor vehicle usage with a daily activity log and are taking active steps to try to cut costs.
If a deputy were averaging more than 200 miles a day, for instance, Zoellner said that person would be questioned about the reasons for the additional mileage and could possibly lose the "privilege" of patrol duty.
"They would be dealt with if (personal use) is reported," he said. " : I hope the public realizes that."
Zoellner said it is stressed during each deputy's initial training that vehicles are not to be used for anything other that job-related activities.
"The division commander goes over that," he said. "That vehicle is not to be used for personal use : They don't take that vehicle with them shopping."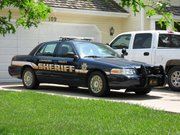 Zoellner said when he started in law enforcement, deputies weren't reimbursed for their time or mileage when responding, for example, to an escaped inmate search at 2 a.m. or having to appear in court on a day off.
Today, he noted, officers must be paid for more and more of their off-duty work and mileage under the federal Fair Labor Standards Act.
With that in mind, Zoellner said, "We're looking at creative ways for the county to save on fuel consumption."
Fueling of all vehicles is now done at the Leavenworth County shop rather than at private, more expensive locations in the county, he said.
And, he noted, sheriff's administrators are trying, when possible, to schedule deputies for patrols in the sheriff's district in which they live in order to keep drive times low.
The department is also looking for ways to handle certain non-emergency calls, such as lost or stolen vehicle registration tags or a dead animal on the side of the road by phone rather than through physically dispatching a sheriff's officer.
Zoellner said administrators have considered parking vehicles overnight at the Leavenworth County Justice Center or at the county annex in Tonganoxie, but security is always an issue.
He had talked about having regular shift briefings with staff at the justice center, too, but it was determined to be more cost effective to send those briefings via email.
A lot of gas, Zoellner further explained, is wasted on false alarms and 911 hang-ups.
"We're aware (of the cost of fuel) and it's my job as an elected official to look out for taxpayer dollars," the sheriff said. "It's my job to find ways to provide public safety to the county but still find ways of cutting certain factors to reduce the cost of fuel, because the bottom line is, it's all of our money."
3rd District County Commissioner Dean Oroke said, in the case of the EMS department in which three administrative employees bring emergency-equipped vehicles home with them, there are circumstances in which a supervisor needs to be on the scene as soon as possible to make certain decisions, such as whether to call for response from air ambulance.
According to him, only one county employee - the county road and bridge superintendent - who is not an emergency service provider drives a vehicle home after normal working hours.
Public works director Mike Spickelmier confirmed that superintendent Bob Beying is on call 24 hours per day, seven days a week.
He said in the event of flooding on Stranger Creek, a ruptured culvert or because of heavy snowfall, Beying has the tools necessary in his vehicle to close a road at any time, day or night.
"It's a matter of public safety that we can respond quicker," Oroke added.
"Events don't always happen at 5 o'clock in the afternoon," said Leavenworth County Emergency Management director Chuck Magaha, whose department has two vehicles that are taken home each night. " : Our (department's) responsibility is to protect life and property : just like any fire department, police or EMS."
Magaha said he drives 23 miles each way to work at the Leavenworth County Courthouse but is careful not to use the emergency management truck he drives to drop his kids off at school or go grocery shopping - despite his wife's requests.
In circumstances in which employees use their own car to conduct official county business during the workday or travel to various training or conferences during the weekend, they currently are reimbursed for their mileage at 47 cents per mile and are given a per diem stipend for meals eaten while on the road.
Each travel request must meet direct approval by the county commission.
"It's policed by the board because that's the purpose of the travel request," Oroke said. "We know who they are, where they're going and how much it's going to cost."
He added that employees often use county-owned vehicles and are encouraged to carpool when possible.
- Joel Walsh
Tonganoxie School District
In the Tonganoxie School District, buses are the only vehicles that employees drive home, according to Superintendent Richard Erickson.
And, to be as efficient as possible with the procedure, Erickson said most drivers' bus routes are planned near where they live.
"What we try to do for the most part, we try to set their routes up near their homes," Erickson said. "If they pick up their bus and go clear to their routes, that's mileage we would have to pay for.
"We try to organize bus routes as much as possible where they live in the district."
Erickson added that, during the winter, buses being parked at drivers' homes are good because they can keep engine heaters plugged in.
- Shawn Linenberger
Tonganoxie City
For the City of Tonganoxie, 11 employees take vehicles home. Among them are six full-time Tonganoxie police officers and five full-time public work employees.
The reasoning for taking home vehicles: Faster response to emergency calls.
"If there are water breaks in the middle of the night [city crews] can bring the trucks in with equipment already on them," said Kathy Bard, assistant city administrator.
According to city policy, only full-time employees who live within the city limits are allowed to take vehicles home, with a few exceptions. At the time the policy took effect, two public works employees, Butch Rogers, city superintendent, and Jerry Stockman, lived outside of the city limits. Bard said they were grandfathered into the new policy to allow them to continue taking vehicles home.
Rogers lives west of Tonganoxie near McLouth and Stockman lives just outside of the city limits.
Rogers agrees that vehicles are taken home for quicker response to emergencies.
"I'm 11 miles from [Tonganoxie] and if I'm sitting at home and my personal vehicle is not there it could be a long time until I get a ride," Rogers said.
He also added that there isn't enough parking for the vehicles at the current public works facility and a lot of tools and equipment kept in the truck would not be safe at the current facility.
Each month a different city crewmember is the main person on call to respond to emergencies, but if that employee is not available, another crew member will be called to respond. Each person on the list takes a vehicle home. Rogers said they receive off-hour calls about twice a week.
The police department also takes vehicles home for quicker responses to emergency situations.
"We do have emergencies and we don't want them rushing into an emergency in their private vehicle," said council member Paula Crook. "It would be safer in a police car."
But unlike the public works crew, all of the officers that take vehicles home live in the city limits.
Police Chief Kenneth Carpenter does not live in the city limits. He does not take a police vehicle home, but he is given a $250 monthly travel allowance.
While city crews aren't allowed to use city vehicles for personal use, there is currently no mileage records kept on public works vehicles to monitor vehicle usage and gas consumption.
Mike Vestal, Tonganoxie mayor, said the police department has officers log how many miles their vehicle had when they started their shift and how many it had at the end of their shift to monitor miles and to see if officers are actually patrolling the city.
There is no log system for public works vehicles. Bard said that gas usage and mileage is checked monthly and is compared to an expected use of the vehicle. If the mileage or gas usage is higher than expected the person who drove the vehicle is questioned about the difference.
Bard and Rogers said that the city residents provide the best monitoring system because if they see a city vehicle in an unusual place they will call city hall, but they haven't received a phone call they couldn't explain in a long time.
"The city watches out for itself," Bard said. "There is no monitoring system, but people do watch."
Crook doesn't think this type of monitoring gives an accurate picture of how the vehicles are being used. She said she has received phone calls from residents that said they have seen city vehicles at locations that couldn't be explained.
Crook wants the city to stop paying for city employees to take city vehicles home because the current gas prices are too high and because the city is paying for a $2 million public works facility with plenty of parking space.
"Everybody is having to tighten their belts and I think they city should tighten their belts too," she said.
- Estuardo Garcia
Basehor
A faster response time to emergency situations and a "just in case" way of thinking allows city of Basehor on-call supervisors to take home their city vehicles when the regular work is day is over.
Back in February, the Basehor City Council approved a proposal from police chief Lloyd Martley that allowed on-call supervisors that live within 5 miles of the city limits to take their vehicles home.
With the city's small staff, only four supervisors - the police chief, lieutenant and sergeant, and the city superintendent - are considered for take-home eligibility. However, only three of the four take vehicles home since one of the supervisors lives in Overland Park, which violates the 5 miles or less rule.
"It was designed from a recommendation by emergency preparedness," Martley said about the passed proposal. "It was determined by what happened down in New Orleans. They lost their entire fleet because all the vehicles were in one lot. If some of the vehicles are taken home and a tornado hits the station, we'll still have some vehicles available to provide some assistance to citizens."
City vehicles are only to be used for business purposes, Martley said, but mileage is not formally logged. Fuel for the vehicles is purchased by gas card through Casey's General Store and employees write down the date, time and mileage of the vehicle when they purchase gasoline.
The strict regulations for taking home city vehicles also keeps extra mileage low, Martley said.
While supervisors may not be called in after hours every day or even every week, having the vehicles in the driveway instead of at city hall when they are called eliminates that extra step of stopping at city hall and allows for a quicker response time and better service to residents, Martley said.
"This way you're out the door, you go straight to the scene, you have all the equipment in the car and you're ready to go," he said.
- Lara Hastings
Bonner Springs and Edwardsville
Just three city employees for the city of Edwardsville have the option of taking home a city-owned vehicle.
Fire Chief Cliff Lane, Police Chief Mark Mathies and Public Works Director John Sower are the chosen three who the city has determined need a vehicle in their possession at all times.
Phyllis Freeman, Edwardsville city clerk, said the city allows for the police and fire chiefs and the public works director to take vehicles home at the end of the workday because they fit certain requirements.
"They are only allowed because they are always on call 24-7," Freeman said, adding that they are also department heads.
Freeman said there have been times in the past when all three have been called in the middle of the night to help in an emergency, especially the fire and police chiefs.
For the public works director position, Freeman said that employee is only allowed to drive a city truck straight home after leaving the office and not allowed to drive it again unless he is called out for specific city work. For example, in the winter a snow blade is attached to the truck so the director is often called out in the early morning to help clear streets after a storm.
As far as keeping track of the number of times those three employees are called out or how many miles are logged after regular work hours, Freeman said, "there is no log." As of now, the number of employees with this benefit is restricted and Freeman said it involves just three employees out of a possible 10 department heads.
In Bonner Springs, there are four employees in the city's three emergency services departments who drive cars home: the police chief, the chief and assistant chief of the fire department, and the EMS chief.
- Nicole Kelley
De Soto
Doug Smith, sewer department supervisor for the city of De Soto, said he has seen the policy of taking vehicles home evolve over the years.
Early in this decade when Gerald Cooper was city administrator, employees were charged for taking city vehicles home after work, Smith said. Later, he was offered the opportunity to take a pickup to and from work in lieu of a raise, he said.
The current city policy is to allow the employee on call in the sewer department and water department to take a vehicle home (De Soto contracts it law enforcement service from the Johnson County Sheriff's Office), City Administrator Pat Guilfoyle said. Employees are not asked to maintain logs of the vehicle use, he said.
The De Soto USD 232's policy is simpler. No one is allowed to take district vehicles home for the night, district community relations director Alvie Cater said.
In the two-man sewer department, the on-call person is usually him, Smith said.
He appreciates the policy, especially with gas prices near $4 a gallon, but Smith said city residents also benefit. He estimated he could get to most off-hour calls from his Eudora home in 12 minutes when he has a pickup loaded in the driveway. If he had to stop at the sewer plant on 79th Street, unlock the gates, switch vehicles and lock the gate as he left, response time would double, he said.
"People get pretty excited when their sewer is backing up," he said.
De Soto Water Department supervisor Clarence Brunk said response time to waterline breaks, tower meter malfunctions or other off-hour problems would also suffer if an equipped department pickup wasn't sent home with the designated first responding on-call employee. In the case of the water department, the person would first have to drive to the city's water treatment plant on the Sunflower Army Ammunition Plant to get a vehicle.
The primary on-call person is usually the water department's maintenance man, Dennis Smith. It is his job to get to problem site, assess the situation and then call Brunk to discuss how many more water department personnel should respond, Brunk said.
The department averages about one such call a week, Brunk said. But that number is much higher during very cold stretches in the winter and later thaws when shifting ground breaks waterlines, he said.
Two years ago, De Soto City Councilwoman Betty Cannon voiced concern about the practice of city employees taking city-owned vehicles home and still has reservations.
"Because the vehicles were paid for by the people of De Soto, I just felt like that was an expense we were bearing that was part of their wages," she said. "The way things are today, that's a pretty big benefit to them."
Cannon's reservations weren't shared by others on the council, who agreed the practice saved time in emergency situations.
Guilfoyle said the on-call policies in Kansas were different than those in New Jersey, where he was a township administrator in two communities. Municipal employees there are unionized and get compensated when on-call, he said.
In addition to the quicker response time, the constrains on an employee's off-duty time when on-call needed to be factored into the benefit to the employee of taking a vehicle home, Guilfoyle said.
"I don't view it as a perk," he said. "They are subject to coming back here day or night when they get called."
- Elvyn J. Jones, Leann Sulzen
Shawnee
In Shawnee, city policy states that use of a city-owned vehicle outside of normal work hours is determined by the city manager, who will consider job requirements, the need for and frequency of after-hours response in that position and the availability of a vehicle.
Department directors are authorized to permit employees temporary use of a city vehicle to and from work. City policy on the use of city-owned vehicles states anyone driving a city-owned vehicle is not permitted to use it for personal errands or activities, private business, pleasure or for secondary employment.
Emergency responders make up the bulk of those who take home vehicles; all those who take vehicles home are expected to respond to incidents from their homes. In the Shawnee Police Department, the command staff members all are provided with cars to take home, which includes one major, three captains and four lieutenants. They currently all live within the city. The department's two motorcycle officers also take their motorcycles home with them.
Additionally, all detectives are allowed to take their cars home if they live within a 10-mile radius of the station, and currently, eight of the 11 detectives take theirs home.
For the fire department, only the fire marshal takes home his city vehicle, as he is on call seven days a week to respond to fires and other emergencies.
In the public works department, the field operations manager is allowed to use a four-wheel drive vehicle in the winter months to respond to storms if he gives prior notification to the public works director. However, city officials said the field operations manager hasn't requested use of a vehicle for the last several years.
No employees of the parks and recreation, development services, finance, information technology, planning or administrative departments take home vehicles, though the city manager, department directors and the mayor all get vehicle allowances.
Mayor Jeff Meyers receives $5,400; Carol Gonzales, city manager, receives $8,200. Directors of the information technology, finance, fire, planning, development services, public works and parks and recreation departments all receive $5,400, while the city clerk/assistant city manager receives a $3,600 allowance.
All of these amounts were the same in the 2007, 2008 estimated, and proposed 2009 city budgets. The only vehicle allowance that changed from year to year was for the police chief; it was budgeted at $4,154 in 2007 and $5,500 in 2008 and 2009.
Gonzales said vehicle allowances are determined by each person's job requirements and how much they must be outside of their office.
- Caroline Boyer
Baldwin
In Baldwin, the use of city-owned and school district-owned vehicles by employees off hours is minimal.
Only Bill Winegar, public works director, uses a vehicle after hours and that's because he must respond to any city-service emergency, said City Administrator Jeff Dingman.
"No one else that is assigned a vehicle typically takes it home," said Dingman. "On-call personnel that get called in after hours typically respond first to the shop and pick up whatever they need and do not take a service truck home with them."
He said police officers sometimes take patrol cars home, but there's a reason for that and they all live within the city limits.
"Police officers assigned to a vehicle typically may drive them home, as a policy to keep them from all being unattended at the same location," said Dingman.
With only one vehicle in after-hours use, it has little impact on the city budget, he said. No school district vehicles are in use after hours.
- Jeff Myrick