Governor endorses Gilstrap's Democratic opponent
Sebelius, Kansas Senate minority leader come out for Kelly Kultala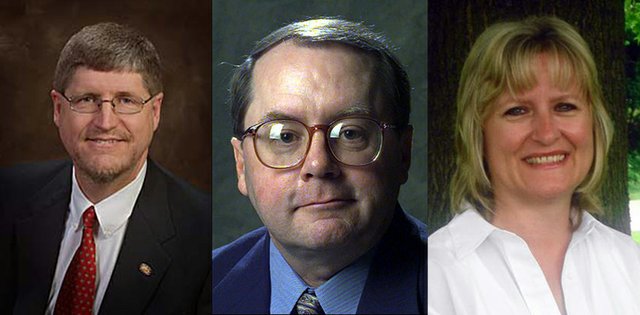 Kansas Gov. Kathleen Sebelius and state Senate Minority Leader Anthony Hensley generated some political waves in the state Friday.
Both announced their endorsement of Democratic candidate Kelly Kultala for the Kansas Senate 5th District, over three-term incumbent Mark Gilstrap, D-Kansas City, Kan.
A Sebelius spokesperson quoted in a local political blog said Gilstrap's opposition to the governor on the issues of health care, education and the governor's efforts to deny permits for two coal-fired power plants were the impetus for the endorsement.
Another spokesperson, Brittany Stiffler, said she did not know which specific education and health care bills the governor was referring to.
Hensley, for his part, said he had gone from working for Gilstrap's re-election in 2004 to opposing him because of the Wyandotte and Leavenworth county legislator's straying from the party on important issues.
"I was one of Mark's biggest supporters in 2004," Hensley said.
But in the past two or three years, Hensley said, Gilstraps' "voting has been more and more with the Republicans than with the Democrats, and more with the conservative faction of the Republican majority."
Hensley called Gilstrap's endorsement of Republican Phill Kline for attorney general in 2006 "the beginning of Mark's downhill slide," and the labeled the senator himself a "Democrat in name only."
"When he first came was a very good caucus member," Hensley said of Gilstrap. "He worked with the caucus really well. We've seen that disintegrate over the last two or three years. Everything I'm telling you I've told him. If he wants to be a Republican, he should change parties and become a Republican."
Hensley said Gilstrap had "backtracked" on a number education issues and said that he was the only Democrat in the state Senate who was not endorsed by the National Education Association, which has endorsed Kultala.
Gilstrap said he was shocked at Sebelius' and Hensley's endorsements of Kultala.
In the 2004 election, Gilstrap noted, "the minority leader did a wonderful newsletter and a wonderful postcard for me that went to 10,000 residents. I've been in the Senate for 12 years. I haven't changed."
Another reason Gilstrap was surprised, he said, was that "the governor has appointed my wife (Jo Anne Gilstrap) not once, but twice, to the Kansas State Board of Pharmacy."
Gilstrap disputed Hensley's characterization of his voting record. Gilstrap did vote in favor of bringing coal-fired power plants to western Kansas, but he said he didn't know what health care and education bill votes he'd cast could have inspired the snub.
Gilstrap voted with the other Democrats on the latest education funding bill, he said. His only vote he could think of that would have earned the ire of the governor and the minority leader was for "a bill several years ago that the governor was pushing" that included a tax increase, Gilstrap said.
He opposed it because "I have never, ever voted for a tax increase."
Gilstrap said a Web site that allows users to compare the number of votes between two legislators showed a more than 92 percent agreement between the votes of Hensley and himself. Gilstrap's voting record with what he termed the most conservative member of the Senate, Roger Pine, R-Lawrence, was 91 percent.
"We've had some disagreements," Gilstrap said of his fellow Democrats, but "we're a family of 10 senators. Usually when the smoke clears we kiss and make up."
Still, Gilstrap says he doesn't think the endorsements will mean much in either the primary election, or, should he win that, the general election.
"In my opinion, my gut feeling, the people I've been talking to around my district, I think it's going to have very little effect," he said.
In his 2004 re-election Gilstrap beat Republican opponent Steve Fitzgerald by just 805 votes, 12,908 to 12,103.
Gilstrap said the close margin owed to a 2002 redrawing of Kansas Senate districts.
The winner of the Democratic primary on Aug. 5 will face Fitzgerald in November.
"We had just redistricted two years before the election," Gilstrap said. "Where I originally had 7 percent of Wyandotte County and 25 percent of Leavenworth County, afterwards I had 40 percent of Wyandotte County and 60 percent of Leavenworth. So I had only two years to make a lot of good friends in Leavenworth."
Gilstrap said he thought he would do "much better" than that in the primary.
Kultala was optimistic about the endorsements' effects.
"I'm hoping it makes a big difference," she said. "The governor's approval ratings are pretty high."
In contrast to Gilstrap's shock, Kultala said, "it wasn't a surprise. They had supported and encouraged me to run in the first place."