Officials determine cause of June 24 fatal plane crash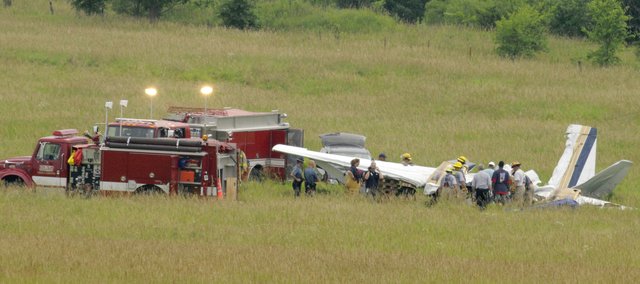 Dual engine power loss is the official cause of a fatal plane crash that happened June 24 in Leavenworth County.
The National Transportation Safety Board released a preliminary accident report on Thursday, saying the Central Airlines Aero Commander took off from the Charles B. Wheeler Downtown Airport in Kansas City, flew to Topeka and did a touch and go at Lawrence Municipal Airport.
The plane then moved to what the report called a "practice area," where it performed a steep turn to the left and to the right. The altitude was already low and the plane hit the ground at a 53-degree angle. The plane's landing gear was down and the flaps were at the approach setting.
Surveyors who witnessed the crash told the NTSB that they saw the plane flying low and the engines sputtered before "everything went silent." The plane then crashed in an open field.
The two men on the plane, Central Airline's chief pilot and a pilot-in-training, were both killed.