Post 41 scores 26 in sweep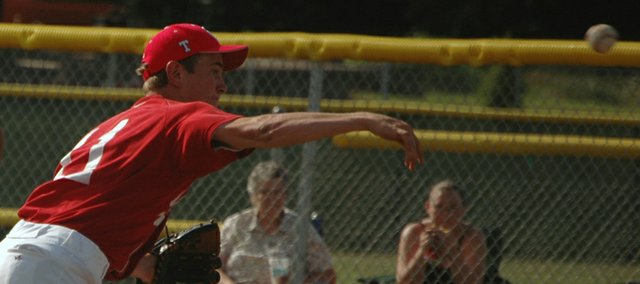 Following a four-game slide, the Post 41 baseball team got back on track by notching a couple more marks in the win column on Thursday with a dominating sweep of the Lansing Cubs.
Tonganoxie captured two victories by run spread at Lansing, winning the first contest, 16-6, in four innings and the second one, 10-2, in six innings.
Post 41 (6-12) won the first American Legion contest by scoring a whopping 14 runs in the first inning.
Coach Pat Bailey said the funny thing was that it didn't seem like his players were even hitting the ball amazingly well. They were just drawing a ton of walks.
Grant Ebbert led the offensive surge for Tonganoxie, going 3-for-4 with a double. Brett Bailes was 2-for-2. Pat Gallagher and Ryan Stockman both went 1-for-2.
Bailey said with a 14-run lead he pretty much called off the troops early on. But, he opined, that may have led to a slower start in the second half of the twinbill.
Post 41 scored just one run in the first two innings before cruising to a 10-2 victory.
Starting pitcher Brett Bailes, Bailey said, helped turn things around when he spoke up in the dugout about the team's lack of production early on and the team responded.
"He got mad," Bailes said, "and when he does that - look out."
The defense and offense picked up from that point on and Bailes did his part by turning in a dominant performance on the mound. He pitched all six innings and fanned 12 Cubs batters, striking out the side in the fifth.
"I've never seen him throw better," Bailey said.
In the second game, Ebbert and Stockman again led with the bats. Stockman was 2-for-2 and Ebbert 2-for-4.
James Bailey also went 2-for-4 and had a double. Bailes was 1-for-2 with a double and Kyle Newton had a triple.
Post 41 is off until Thursday when the team will play host to the Leavenworth Knights at Leavenworth County Fairgrounds. The first game begins at 6 p.m.