Missing 90-year-old located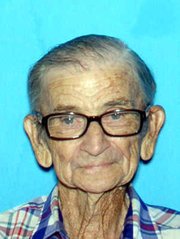 A 90-year-old Shawnee man missing since Sunday was found Monday 150 miles from home.
Warren Wagner was located in Labette County, near Parsons, Kan., where officers contacted him around 10:30 p.m. Monday for driving slowly in the area. They found he was confused and contacted his family, who picked him up.
Warren Wagner left his residence in his car about 7:30 p.m. Sunday to run some errands. When Wagner's daughter noticed he was not home by 10 p.m., she called the police and filed a missing persons report. At 5 a.m. Monday, Wagner was in western Atchison County, where he had contact with a sheriff's deputy and was given directions home.
Police searched the area for Wagner and had asked for the public's assistance to locate him. It was believed he might be in Leavenworth County because he is familiar with Leavenworth and Lansing.