Candidate profile: Francis Hurla
Editor's Note: The following candidate profile, written by reporter Joel Walsh, continues The Mirror's series on local candidates running in primary elections Aug. 5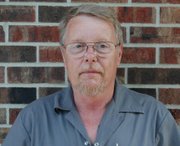 Francis Hurla, a heating, ventilating and air conditioning technician and local Tonganoxie business owner, says his top priority if elected as southern Leavenworth's next representative to the board of county commissioners would be to manage the county "in a manner that provides the best services while staying within the budget."
In a recent questionnaire sent to all candidates running in an Aug. 5 primary election for the commission seat, Hurla said, "I believe I have a better feel for all of the people of this (the 3rd) district" compared to other commission candidates.
Whereas he initially expressed his frustrations in regard to a proposed interchange with Interstate 70 on County Road 1 after filing for office in May, Hurla has resigned to a belief that "these matters (County Road 1 and a countywide communications upgrade) are basically decided."
Asked what steps he might take to manage Leavenworth County's economic development in a time of burgeoning residential and commercial growth, Hurla said: "A building code should be adopted and enforced, (and) all current regulations should be enforced."
As for his thoughts on locating a combined regional airport and industrial complex somewhere in the county, Hurla asked, "Is this feasible? It would need a lot of study."
And in response to the question, "How would you work with the (county) administrator and county department heads to make decisions and develop/implement policy," Hurla said, "As a supervisor and now business owner, you hire good people, then you support them and work with them to encourage the best result."
The longtime Tonganoxie resident is among seven Republican candidates vying for the 3rd District County Commission seat, including Beverly "Bev" Oroke, John Flower, Dave Taylor, William "Bill" Merkel, Marvin Torneden and Tony Klamm.
The winner of the Aug. 5 primary will face sole Democratic contender Pete Henderson in a Nov. 4 general election.
If elected to the 3rd District Leavenworth County Commission seat in November, Republican candidate Beverly "Bev" Oroke says she will make "thoughtful and sometimes tough decisions" in order to lay a plan for future growth.
"I want to serve the residents of our county so that all taxpayers can receive maximum value for our tax dollars," Oroke said in a recent candidate questionnaire mailed to all commission candidates on the ballot in an Aug. 5 primary election. " : I would weigh every dollar of county expenditure relative to its benefit to the taxpayers in the same way I think about my personal budget."
For Hurla's full responses to a candidate questionnaire, go online at www.tonganoxiemirror.com.