City, school board talk budgets
School budget accounts for previous tax filing error; city plans to hold line on mill levy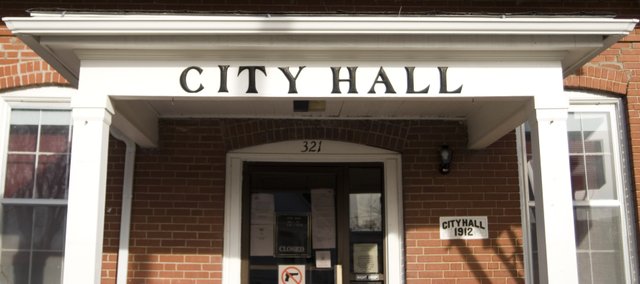 The Tonganoxie School District is making up for last year's tax error in one year.
Superintendent Richard Erickson proposed a 5.23 mill reduction in the budget from last year for the bond and interest fund. That reduction was to compensate for Erickson's tax filing error that cost taxpayers more than $368,000.
"I'm not pleased about the error, and I'll never be pleased about that error," Erickson said at Monday's school board meeting.
Erickson's initial plan for repayment, including interest, was to spread the repayment over three years.
But Monday, Erickson proposed the mill reduction all at one time. The bond and interest fund calls for 10.584 mills, compared to the previous year's 15.818.
However, the total proposed mill levy was 52.401, which is a reduction of 2.72 mills from the previous year. That's because Erickson proposed raising the local-option budget by 2.51 mills to fund additional employee needs for the all-day every day kindergarten program, block scheduling at THS and all other certified and classified positions that have been added during the past several years. All-day kindergarten and high school block scheduling are new for 2008-09.
Erickson said the published budget is inflated as well.
A mill is $1 in taxes for every $1,000 in assessed valuation.
"The working budget is considerably under the published budget," Erickson said. "The reason is we want to take full advantage of state aid possibilities out there.
"And secondly, if we have an emergency in our school district, we don't have to go back and republish the budget. The state, they don't want to see a school district get into June and not set published budgets high enough."
Erickson also noted that the Legislature has provided the district with $500,000 per year for 2007-08 and 2008-09 because the district opened new facilities, but that aid will not continue after the upcoming school year.
During the explanation of the budget proposals, Erickson also continued to push his plan for urging more families to see whether they qualify for reduced lunch prices because of their income.
He said for parents who do not want to accept such aid, they can deny that aid if they do qualify, but for every family that qualifies, it would be another $2,000 in state aid. Erickson would like to send out information about reduced lunches with enrollment information to parents. And, he wanted to explore using the Family First telephone alert system to provide information about the aid to parents. Board member Kay Smith, though, was concerned whether that was legal. Erickson said he would check with the Kansas Association of School Boards before proceeding.
A budget hearing will be held at the next regular board meeting, slated for 6 p.m. Monday, Aug. 11.
City holding that line
On the city's side, the increase in valuation has hit a 10-year low.
At an increase of $141,911 to $34,920,238, this year's increase pales in comparison to the $2,107,492 increase from last year or the $4,113,271 increases the year before that.
Mike Yanez, the city administrator, said at Monday's budget work session the increase in valuation from previous years "has made it really possible for the city to be really aggressive in the capital plan and maintenance budget. This year we don't have that luxury."
To keep the mill levy at the proposed 31.555 - down 2.17 mills from 2008 - Yanez said the city took a conservative approach to the budget and did not add any new services. He described it as a "maintenance budget."
Not on the initial draft budget was a new road on East Street.
When asked by the council why it wasn't included in next year's budget, Yanez said he couldn't find an economic benefit to a street that was on a floodplain because there wasn't much interest in development in that area.
Both council members Paula Crook and Tom Putthoff said there needed to be a route in place for emergency vehicles to get to Washington Street when the bridge on Pleasant Street begins to be replaced as early as 2010.
"We got to take care of what we have before we start expanding," Putthoff said. "We have to get some routes to the south side of town. If we don't do it before we start expanding we are going to be in that much more trouble when we do start expanding."
When the Pleasant Street bridge was being repaired in 2007, large emergency vehicles were rerouted to U.S. Highway 24-40 drastically increasing the time responding to emergencies on Washington Street.
The East Street project was estimated at more than $560,000 in 2007.
City staff was directed by the council to add East Street to the 2009 budget once a new design and construction estimate was figured. Kathy Bard, the assistant city administrator, said the project would not increase the mill levy for 2009, because payments for the project would not be made until 2010.
She said Tuesday that she was confident that the city would be able to layer the debt and have enough budget carryover to 2010 that the city will not need the 11 percent mill increase needed to pay for debt that year.
In other news, the council discussed in the budget work session:
¢ The addition of a police investigator, new full-time firefighter and a light equipment operator for the public works department.
¢ The $800,000 proposed improvements to the Tonganoxie Fire Department.
¢ A 4.5 percent cost of living adjustment to salaries of city employees. The raise is in addition to any yearly merit raises.
¢ Purchasing a city vehicle to be used by the city administrator and other city officials instead of paying for the city administrator's proposed $325 monthly car allowance for 2009. The council currently pays the city administrator a $275 monthly car allowance.