City's young enjoying old ball game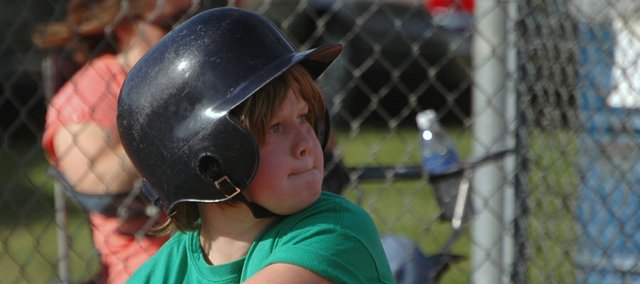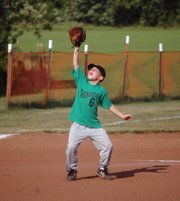 This summer, like most in Tonganoxie, the Leavenworth County Fairgrounds have been swarming with baseball and softball players nearly every evening.
And it's not just the high-school-aged competitors who are keeping the diamonds occupied. Most of the buzz is created by the youngsters who throw on their caps and team T-shirts, grab their gloves and bats and hit the field with enthusiasm for Tonganoxie Recreation Commission summer leagues, which wrapped up their seasons this past week.
For children in Tonganoxie, there are five different age divisions for girls and boys, including the coed T-ball league.
While all four softball divisions as well as the 12- and 14-and-under baseball divisions are a part of the area Kaw Valley League and play some games out of town, the two younger baseball divisions and the T-ball league are exclusive to the TRC and only play in Tonganoxie.
TRC director Gayle Parker crunched the numbers and found that a total of 464 youths from Tonganoxie played on 37 TRC teams this summer. The T-ball ranks, which had eight coed teams, made up 103 of that sum. Among the older divisions, 227 boys played for 18 baseball teams and 134 girls played for 11 softball teams.
Established in 1967, the TRC has been organizing youth baseball and softball leagues for years now (before the TRC's involvement, they were run by parents and volunteers), and Parker said participation numbers this year, like the past few, have been steady.
"It fluctuates a little bit, but never by much," he said. "If anything we're getting a little bit (of growth)."
According to Parker, growth in the summer leagues usually coincides with growth in the community.
"It depends on the economy, whether or not people keep moving into town, which has kind of slowed over the last year," he said, adding that he expects nothing but growth in the near future.
As for the present, Parker said this season was a success when Mother Nature didn't get in the way.
"It was a good summer. It was a little wet at times," he said before describing the feedback he has received from players, coaches and parents. "We've not gotten a lot of negative, which is good. People usually express negatives and not positives."
Parker often sees the positives when he is out making the rounds at the local diamonds on game nights. He gets to see a handful of games in person and is always glad to watch the youths having a good time while remaining active with softball and baseball.
Fun is really the bottom line as far as the TRC leagues are concerned. Parker said the leagues are considered recreational and every child involved gets a participation medal.
"We do keep scores, but we don't keep standings. I think it's more about the kids having a good time, getting some good instruction and coming back next year. That's always a good measuring stick (for the program's success) - whether or not they come back."
While Parker is satisfied with the success of the summer softball and baseball leagues and thinks they are important activities for Tonganoxie youths, he said those two programs were just a small portion of the TRC's overall success.
"I think all of our recreational activities are important for the kids," Parker said. "Not just baseball and softball, but the soccer (outdoors and indoors) and basketball. And you don't want to forget about all of our youngsters who are not sport-minded."
He pointed out that the TRC tries to provide children in the Tonganoxie community with various activities that don't involve sports. For example, the TRC offers a summer theater program, sewing camp, 4-H tech camp, and art programs.