Digital billboards evaluated again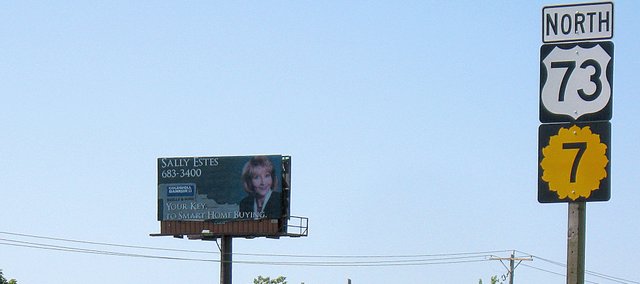 Leavenworth County Commissioners heard an industry spokesperson's reasons for lifting a ban on new digital billboards in the county during a presentation Monday, but declined ending a six-month moratorium on the displays in unincorporated areas of the county until further review.
Bob Fessler, a regional vice president with Lamar Advertising Company, reviewed federal and state laws governing computerized advertisements, detailed several safety studies concerning the displays and noted Lamar's plans to convert two existing 300-square-foot billboards on Kansas Highway 7 south of Lansing to digital signs.
"They don't flash, they don't have motion and they don't have intermittent video," Mary Jo Shaney, an attorney representing Lamar, said of the proposed billboards.
Commissioners, in May, approved a moratorium - or cessation - on permitting for any new digital billboards, noting concerns over the safety of motorists traveling roads in the county as reasoning for the ban.
Fessler said digital billboards, which were determined to be "safety neutral" in a study conducted by The Foundation for Outdoor Advertising Research and Education, are allowable so long as they are not within 1,000 feet of another display and are located in commercially zoned property.
He further explained the billboards could be made available for certain public service announcements - including messages from the National Center for Missing & Exploited Children and the National Weather Service - and would have their brightness adjusted so as not to interfere with drivers.
Leavenworth County Planning and Zoning director Chris Dunn, who initially raised several concerns about locating digital displays in the county, said, "All of the materials I've read so far lend me to believe we could probably live with digital signs should there be some (guidelines)."
Commission chairman Clyde Graeber asked whether the county could receive any royalties for the billboards. County counselor David Van Parys said the state allowed for franchise fees when a public utility was involved; however, Lamar is not a public utility.
Ultimately, commissioners delayed any action Monday, giving staff time to review any legal or permitting questions before bringing the issue back before the board.
In other business Monday, the board:
¢ Unanimously passed a resolution allowing staff to advertise the sale of the former county infirmary at 1830 S. Broadway St. in Leavenworth, while reserving the right to reject any offers that may be received.
¢ Approved, 3-0, installing a wireless Motorola link in the county Justice Center to ensure an uninterrupted connection to the county's intranet network should a fiber optic cable in place fail.
The expenditure is to be paid out of the information systems department's capital outlay fund.
¢ Unanimously approved a bid for road salt from Kanopolis-based Independent Salt Company at $50.82 per ton and the purchase of LED signs for east and westbound Fairmount Road at 147th Street.
¢ Authorized, 3-0, Health Department administrator Donna Martin to enter into a yearly contract with licensed pharmacist Danielle Murphy to oversee storage of the county's family planning pharmaceuticals, a requirement under the department's family planning grant.
¢ Unanimously approved a temporary use permit allowing a picnic for city of Eudora staff at the residence of Ken Waldock, 22652 Alexander Road.
¢ Approved, 3-0, the recommendation of County Clerk Linda Scheer to allow Leavenworth County-employed election workers to be reimbursed by the Election Board for their time exceeding eight hours on election days at time-and-a-half pay.
¢ Voted, 3-0, to allow exemptions from a recently passed hiring freeze for a part-time homemaker position in the Leavenworth Council on Aging and an administrative assistant in the Leavenworth City/County Probation Department.
An exemption request for an administrative assistant in the Community Corrections department was unanimously tabled.
¢ Met in executive sessions of 45 and 20 minutes to discuss personnel matters and for five minutes for the acquisition of real property.