Francis Hurla candidate questionnaire responses
Editor's note: The following are responses to a questionnaire mailed to candidates in the upcoming Aug. 5 primary election. Look for more candidate profiles and full responses to the questions leading up to the primary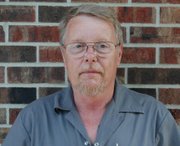 Name: Francis Hurla
Place of residence: Tonganoxie
Birthdate: Sept. 17, 1945
Family: Mary, wife; Andy, son; Hope, daughter
Religion: Catholic
Education: Junior college
Occupation: Heating, ventilating and air conditioning technician
Political and government experience: Tonganoxie Township Clerk
Clubs or organizations: N/A
Why are you running for the commission seat? N/A
What is your top priority for Leavenworth County? "To be managed in a manner that provides the best services while staying within the budget."
The current county commission has committed special sales tax revenue to several capital improvement projects, including the County Road 1 interchange project in southern Leavenworth and a countywide communications upgrade. How would you like to see these projects handled if elected? "I believe these matters are basically decided."
For the past five budget cycles, commissioners have reduced the county's mill levy - of the percentage of assessed value that county property owners pay in property tax each year. What efforts would you make to hold the line on or decrease property taxes, if any? N/A
Leavenworth County is experiencing a time of residential and commercial growth. What steps might you take to manage that growth? "Building codes should be adopted and enforced. All current regulations should be enforced."
As a county commissioner, you would assume authority over more than 400 county employees - including a newly hired county administrator - and would constantly interact with them, other municipalities' elected officials and members of the public. What kind of leadership, administrative and interpersonal skills do you possess? How would you work with the administrator and county department heads to make decisions and develop/implement policy? "As a supervisor and now business owner, you hire good people, then you support them and work with them to encourage the best result."
Are you in favor of locating a combined regional airport and industrial complex in Leavenworth County? Why or why not? "Is this feasible? I would need a lot of study."
What differentiates you from the other candidates filing for this office? "I will lose money by doing this. I believe I have a better feel for all of the people of this district."