A new vision for Tonganoxie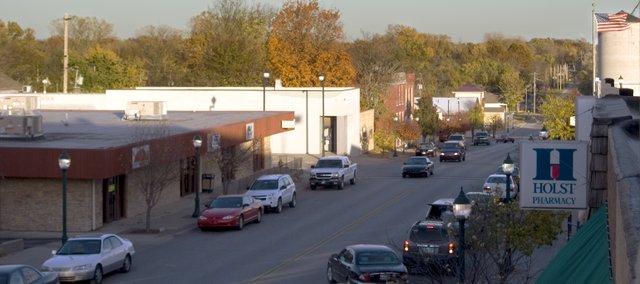 The Bucher, Willis & Ratliff Corp. has finished interviewing key stakeholders in the community to find out what can be done about retail development in Tonganoxie.
Now with a preliminary draft of their findings, representatives with the Kansas City Mo. -based planning and engineering firm want to get the community involved to develop a vision for the future of the city.
"I think there is an optimistic feeling overall that Tonganoxie's retail sector is being reborn," said Mike Yanez, city administrator.
The draft on how to recruit and retain commercial retailers shows big development potential for Tonganoxie.
The report had some initial thoughts on how to improve Tonganoxie on the surface. Some of the ideas included putting in more green space and open space downtown as well as possibly building a community center. The report also suggested setting aside money so downtown businesses could improve the façade of their buildings.
A key factor in the growth of Tonganoxie seemed to be the development of County Road 1 after the connection to Interstate 70 is completed.
"Until County Road 1 gets moving, I think - year to year - we will be a more attractive site for people who want to start a business or franchise here," Yanez said. "It's just a matter of time; it's not like we have some incurable disease. We are in a bit of a holding pattern until the private sector gets reenergized."
Another draw to the town listed in the BWR findings was the quality of living, which included things like location to the metro area, minimal crime and the school systems.
The draft report did show where Tonganoxie could use some improvement.
It stated that there is a lack of community cohesiveness and there is a need to have people get involved to "help define the future" of Tonganoxie.
It also mentioned a need for a stronger presence from the Tonganoxie Chamber of Commerce.
The community also needs to be rejuvenated so there is a sense of pride, the draft report said.
On the retail and service side, there is a lack of restaurant choice, no hospital or large institutions and a better grocery store and better paying jobs are needed to name a few areas for improvement.
Tonganoxie Mayor Mike Vestal said he was looking at the future of Tonganoxie as a glass that's half full.
"You want to keep that little town image, but you can't flourish if you don't grow," Vestal said. "We have to step aside for the younger folks and let this town grow."
BWR, the city's planning firm, will have a public visioning session tonight at 6 p.m. at the Tonganoxie VFW.
In April, the Tonganoxie City Council unanimously agreed to pay BWR $33,700 for a core study to include a communitywide survey, economic market study, community development meetings - called charrettes - and a final open house that will allow the community to have input on the company's final report.