Summer hoops session behooves Chieftains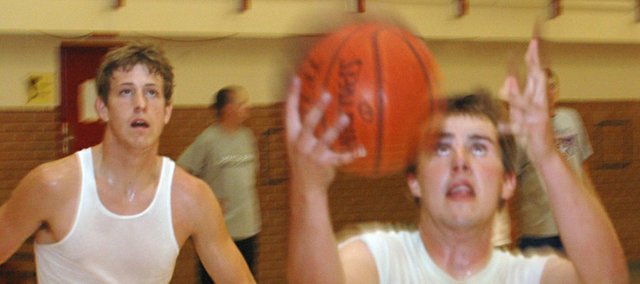 It wasn't because of their grades or for disciplinary reasons, but Shawn Phillips sent his players to an entire month of summer school.
Every Monday night in June, the Tonganoxie High boys basketball team went on campus in Kansas City, Mo., at Rockhurst University for a crash course in hoopology.
On the college's hardwood, the Chieftains played two games a night every week against Class 5A and 6A schools from Kansas as well as 4A and 5A squads from Missouri.
The hope for first-year THS coach Phillips was that his players would improve against the tough competition by facing various styles of play that they might neither have seen before nor will see again during the upcoming season's schedule.
The coach got exactly what he wanted. Phillips said the Chieftains played some "very athletic" opponents in the summer league.
"We struggled with that a little bit early," said Phillips, who because of prep rules was not allowed to coach the team in the summer but could go watch it play.
However, the 4A Chieftains - coached in the summer league by THS principal Jamie Carlisle and John Snapp, who works with THS junior varsity players - improved as June progressed.
After winning just one game in the first three weeks, Tonganoxie went 3-1 the final two Mondays at Rockhurst.
Phillips said the reason for the change in fortune was twofold: 1. The players needed time to adjust to the coach's new offensive system, and 2. They played with a more complete roster in the last two weeks.
Phillips said things started coming naturally as the got more comfortable and played with a full compliment of players late in June.
"Early on you could tell their brains were thinking too much instead of just going out and playing," Phillips said.
That was no longer the case the last couple of weeks.
"People have started to understand their roles a little bit," Phillips said, noting that scorers, defenders and rebounders are starting to emerge, and that he was pleased with how the team shared the ball. "If there's somebody else who has a better shot, people have given the ball up for the most part."
The happy coach identified two players as those who have impressed offensively, thus far.
"Keaton Schaffer has had a very good summer for us. He's probably been our most consistent scorer," Phillips said. "Austin Smith has done a very good job of scoring inside for us on the post."
Phillips said rising senior Jamie Everett also put the ball in the hoop a bit, but for the most part the scoring was balanced.
"We've had other guys fill in every night," he said.
But Phillips also was happy with the play of a few younger Chieftains who stepped up and performed well in the league. He said he liked what he saw from sophomores Jeremy Carlisle and Dylan Scates, as well as Dane Erickson, a 6-foot-3 freshman who played some minutes with the varsity.
"He's helped to give us a little bit of size," Phillips said of Erickson, calling him a "fast learner" who, along with Smith, could help provide some length inside.
One of four rising seniors, Smith said playing at Rockhurst was a positive step for the team.
"We're going to a different place and playing these big schools. There's a lot more to learn from there instead of just playing against the same old people, doing the same old thing," he said.
Although Phillips began to see his team take shape in the summer league, he said nothing is set in stone.
"There's still time for that (roles) to sift itself out," he said.
The Chieftains originally were scheduled to play in a tournament at Rockhurst this weekend, but with players having varying summer schedules Phillips said they decided to pass. He also said they might play in an MAYB tournament at Gardner-Edgerton the weekend of July 25, depending on player availability.