Tonganoxie experiences minimal growth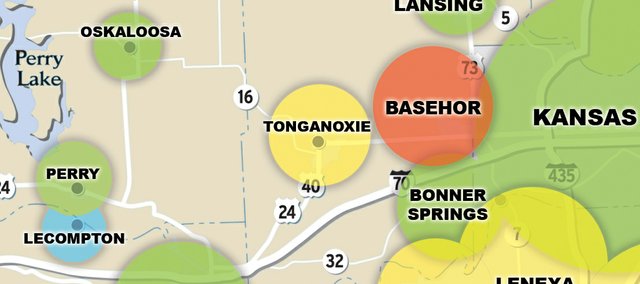 Tonganoxie continues to grow, according to population numbers released Thursday by the U.S. Census.
Estimates show Tonganoxie as having a population increase of 3 percent from last year's census numbers. The 119 new residents puts the town's population at 4,156 for July 2007.
"I was surprised by the numbers," Tonganoxie Mayor Mike Vestal said Tuesday. "That's a quality sign for Tonganoxie; I was very encouraged by it. I looked around at some of the other cities that have lost populations. They haven't grown like we have."
The 3 percent growth does not match the 9.19 percent population jump the city experienced in 2006. But it does show that the city has grown by nearly 1,000 since July of 2002.
Tonganoxie City Administrator Mike Yanez said a slowing economy probably contributed to the slow population increase.
"It's just indicative of the overall economic climate in the nation," Yanez said. "People wanting to relocate here are having difficulty selling their old house."
Basehor continues to experience massive population increases. At 3,729, its population is about 250 people higher than the previous year (3,468). Additionally, Basehor has experienced a growth of nearly 1,200 from 2002-07.