Local residents discuss future of city, county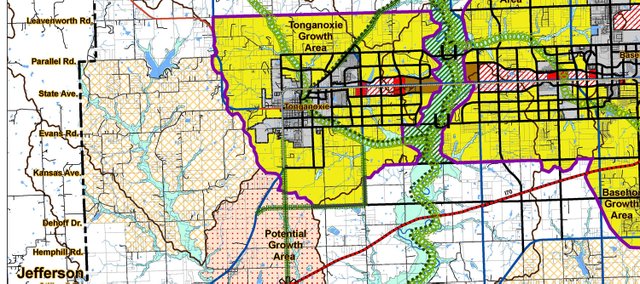 Related document
On Wednesday and Thursday, city leaders, city planners, local business owners and residents attended meetings that focused on the future development of Tonganoxie.
On Wednesday, about 17 people attended a public visioning session that was hosted by Bucher, Willis & Ratliff Corp., the city's planning firm, to discuss the business needs of the city as it pertains to expanding and retaining business in Tonganoxie.
"It was really helpful," Scott Michie, vice president of BWR, said. "We wanted to find out how the group felt were the strengths and weaknesses in Tonganoxie."
To gain more information for their final report, BWR will be sending surveys to 1,000 residents in and around the city limits with questions similar to those discussed at the meeting. The surveys will be sent out by the end of next week and Michie said he needed residents to send them back by the beginning of August.
The county also had plans for future development.
On Thursday, Chris Dunn, Leavenworth County Planning and Zoning director, updated many of the same people from Wednesday's meeting and a few others about the county's comprehensive plan that was adopted in June.
During the update Dunn discussed the survey results, where county residents discussed what they wanted for the future of the county.
"Folks want roads, folks want parks and they want transparency in projects," Dunn said. "It's the same thing everybody wants. They want to keep the rural atmosphere with Johnson County amenities."
The entire comprehensive plan and plan map are available with this online story.
For more on the meetings read the June 23 print edition of The Mirror.