Tonganoxie goes to the dogs
Local terrier club holds semi-annual show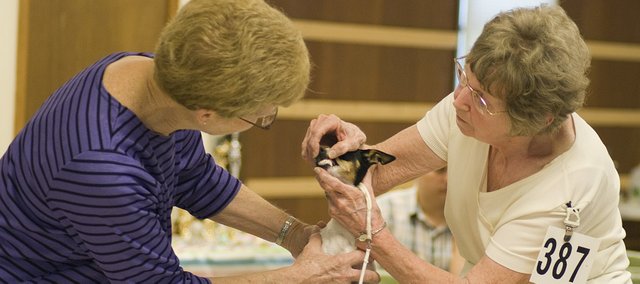 The Heartland Toy Fox Terrier Club conducted its semiannual conformation show Saturday at the Leavenworth County Fairgrounds.
On the floor judging the competition was Jerri Lindsey from Fort Worth, Texas.
Lindsey was judging the dogs on movement, how well they conformed to the breed standard and their attitude.
"These are terriers; there should be some attitude," Lindsey said. "They should be enthusiastic, curious and inquisitive. They were bred to go to ground after rats, so they have to have that go-get-it attitude."
While other United Kennel Club-sponsored shows judge multiple breeds, the club's show is the only competition strictly for toy fox terriers. But what has made this show unique may also be contributing to its lower attendance.
Saturday's competition had six contestants, which Cindy Werner, the club's president, said has been about average for the last few years.
She said many people who had different breeds of dogs would rather go to one of the bigger shows where multiple breeds could compete.
Higher fuel costs have also been keeping regional contestants away.
A regularly scheduled show in April was canceled because of a lack of competitors.
Werner said she took into account the high price of fuel and couldn't justify asking judges to come in from Texas or Oklahoma to judge such a small number of dogs.
"It was for the judges' sake not to have to make that expensive trip," she said.
The lower attendance has also meant a lower number of active members for the 25-year-old club.
"A lot of our members are older, and little by little we are losing them," Werner said.
To combat the problem, Werner and Mary Gergick, the club's publicity chairwoman, have been thinking of different ideas to promote the club and encourage younger people to participate. The club has a special competition for anyone 17 years old or younger. They are also thinking about conducting the show only once a year. As a last resort, the club may also allow other breeds to come in for judging.
But the club's worries took a back seat during the hourlong competition.
"I think they are the most awesome overall lapdog you can get," Dorothy West, of Perry, said about the small and energetic toy fox terrier.
Her dog Foxcross Chloe won best of breed.
The Heartland Toy Fox Terrier Club will continue its conformation show today. Entries will be received from 9 a.m. to 10 a.m., and the show will start at 10:30 a.m. For more information, call (913) 774-4311 or e-mail heartlandtft@yahoo.com.