Candidate profile: Dave Taylor
Editor's Note: The following candidate profile, written by reporter Joel Walsh, continues The Mirror's series on local candidates running in primary elections Aug. 5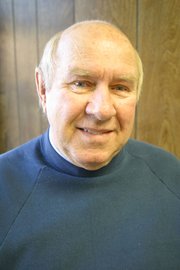 Former Tonganoxie Mayor Dave Taylor says after serving the city for four years, he is ready to represent the residents of Leavenworth County's 3rd District and the entire county for another four.
"I believe I am the only elected official running for the commission," Taylor said in a recent questionnaire sent to all candidates running in an Aug. 5 primary election for the commission seat currently held by commissioner Dean Oroke. "My experience as mayor has prepared me for this responsibility."
The retired contractor and former owner and publisher of The Grand Central Publication has also served on the Kansas City, Kan., Housing Authority and is an active member of American Legion Post 41, the Tonganoxie Historical Society and AFL/CIO Local 861.
Asked what his top priority for Leavenworth County would be if elected, Taylor said he would attempt to eliminate rock roads in the county.
"Rock roads are a hardship on everyone who uses them," Taylor explained, noting that two surrounding counties have eliminated their use. "Not only will people who live on these roads benefit, but the entire county will benefit by this upgrade."
In response to a question regarding how he would handle various capital improvement projects including the County Road 1 interchange project and a countywide communications upgrade, Taylor said, "County Road 1 has been controversial to say the least. When you start developing an area, you must set aside areas for farmland as well as parks. There is no question homes will be built. People all over the county should have a say in a project this large. The communication upgrade is a federal mandate, and, again, you need to have public input."
Taylor said if annexation becomes an issue in the future, "all parties involved should have a say. The taxpayers should have the final say."
He expressed support for a combined regional airport and business park somewhere in Leavenworth County, saying, "I believe it would serve a good purpose."
Taylor is among seven Republican candidates vying for the 3rd District County Commission seat, including Beverly "Bev" Oroke, John Flower, Francis Hurla, William "Bill" Merkel, Marvin Torneden and Tony Klamm.
The winner of the Aug. 5 primary will face sole Democratic contender Pete Henderson in a Nov. 4 election.
For Taylor's full responses to a candidate questionnaire, go online at www.tonganoxiemirror.com.